RELEASE DATE: 1/28/09
FOR IMMEDIATE RELEASE: Collegiate Sprint Football League (CSFL) elevates Mansfield to full-member status
AP Transactions: Collegiate Sprint Football League (CSFL) elevated Mansfield (PA) University to full membership for the 2009 season.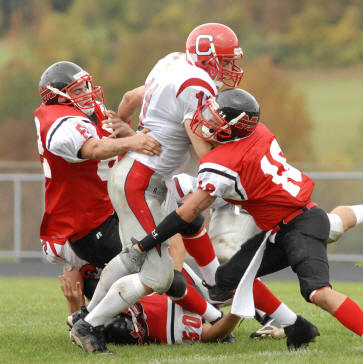 ITHACA, NY – The Collegiate Sprint Football League (CSFL) will expand to six teams with the addition of Mansfield (PA) University as a full-member for the upcoming 2009 season.
The announcement was made today by CSFL Commissioner Stephen Erber of Cornell.
"The CSFL is excited to have Mansfield University become a full member of the League and compete for the League championship," said Erber. "Mansfield's rich and long standing football tradition will add to the already significant history and traditions of Sprint football. We are very pleased to have them join the CSFL."
Mansfield was a probationary program in 2008, playing a modified four game schedule against CSFL teams.
The CSFL, which traces its existence back to 1934, is a varsity collegiate football league, like all NCAA and NAIA collegiate football leagues, with the exception of a 172 pound weight limit for players. CSFL teams are classified as varsity sports by each institution's athletic department.
Mansfield dropped its 115-year old NCAA Division II program at the conclusion of the 2006 season and was without football in 2007. Mansfield is the first school to be awarded full membership in the CSFL since Columbia joined the league in 1955.
The current CSFL membership is comprised of Cornell University, Mansfield University, University of Pennsylvania, Princeton University, the United States Military Academy at West Point (Army) and the United States Naval Academy at Annapolis (Navy) .
Mansfield will open the 2009 season at home against Princeton on Sept. 19 and host Cornell for the Fabulous 1890s Weekend and Family Day on Sept. 26.
The Mountaineers travel to Franklin Field to take on the University of Pennsylvania on Oct. 2 before returning home to host CSFL defending champion Navy for Homecoming on Oct. 10. Mansfield will then travel to Saratoga Springs, NY to play Army in the Allegiance Bowl on Oct. 17. The final two games of the season are at Princeton on Oct. 23 and at Cornell on Oct. 30.