RELEASE DATE: 10/31/08
FOR IMMEDIATE RELEASE: Mounties threw scare into Cornell on Halloween Eve – Danny Moss throws for 234 yards and runs for 74 yards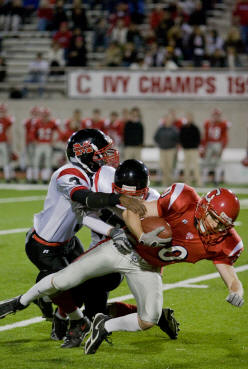 ITHACA, NY – Danny Moss racked up 308-yards in total offense and Mansfield was beating Cornell with six minutes to play before dropping a 38-28 decision on Halloween eve at Schoellkopf Field.
Moss, a sophomore quarterback from Anchorage, AK, completed 22-of-41 for 234 yards and two touchdowns and picked on 74-yards, including a 33-yard touchdown, on the ground as Mansfield out gained Cornell 383-343 in total offense.
The offensive showing highlighted the improvement of the Mountaineers who had dropped a 35-0 decision to the same Cornell team in the season opener at Mansfield six weeks ago holding Mansfield to just 14-yards in total offense in that game.
Moss threw a 10-yard strike to sophomore Sam O'Conner to give Mansfield a 28-24 lead with 7:04 remaining in the game.
But Cornell (5-2) came back behind all-time leading passer Zak Dentes to retake the lead capping off a 4-play 62-yard drive with a 22-yard touchdown pass to Mike Brennan with 5:39 remaining.
On the next possession, with Mansfield driving into Cornell territory, Daniel Kubis intercepted a tipped Moss pass and returned it 50-yards for a touchdown.
Mansfield didn't give up and marched to the Cornell 11-yard line before tuning the ball over on downs with less than two minutes to play.
Cornell took a 10-0 lead before Tyler Floyd scored on a 8-yard run with four seconds remaining in the first quarter and took a 14-10 advantage less than a minute when Moss scored on a 33-yard run after Mansfield recovered a fumble.
Cornell regained the lead shortly before the end of the first half on a 12-yard pass from Elliot Corey to Mike Brennan.
Mansfield jumped back into he lead with Moss hit freshman Tyler Floyd down the right sideline and Floyd raced 72-yards for the score and a 21-17 lead with :44 remaining in the third quarter.
Cornell regained the lead four minutes later on a 24-yard pass from Dentes to Chris LaBerge but Mansfield put together a 10-play drive to take the lead again on the touchdown pass to O'Conner.
Floyd caught five passes for 90-yards and picked up another 46-yards on four carries while Canton's Lucas Bailey had five catches for 60-yards.
Solomon Isom led the defense with 10 tackles with Jimmy Wronski and Brian Cadwell each recording six stops.
Mansfield ends its season with a 1-3 overall record. The Mountaineers are expected to become a full member of the CSFL at the league meeting on Monday with a full seven game schedule in 2009 including games against Army and Navy.