RELEASE DATE: 8/30/08
FOR IMMEDIATE RELEASE: Mounties take to the practice field for start of 2008 sprint football season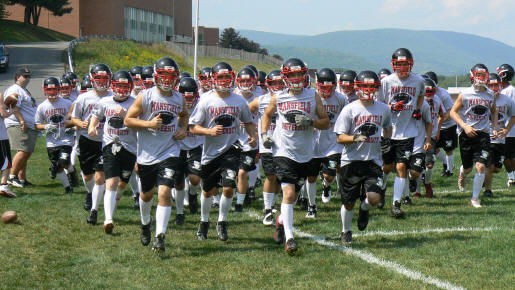 MANSFIELD -- The Mansfield University sprint football team took to the practice field for the first time this season Saturday afternoon at the Ed Russell practice field. Players went through physicals earlier in the morning before taking the field under perfect weather conditions for the first regular season practice in 655 days since Mansfield disbanded its NCAA Division II program in November 2006.
Mansfield will be one of six teams to compete in the Collegiate Sprint Football League (CSFL) this year along with Cornell University, the University of Pennsylvania, Princeton University, The United States Military Academy at West Point and the United States Naval Academy as Annapolis.
Head coach Dan Davis and his staff went through conditioning early in the practice before working on position drills. The Mountaineers will host Princeton in a scrimmage on Sept. 20 before hosting Cornell in their first game of the season on Sept. 27.