RELEASE DATE: 9/15/09
FOR IMMEDIATE RELEASE: Mansfield host Princeton in Josh Palmer Pigskin Classic this Saturday – Game marks first full season in CSFL – Corporate sponsors provide free admission
MANSFIELD – The Mansfield University sprint football program will open its first full-season in the Collegiate Sprint Football League this Saturday, Sept. 19 when the Mountaineers host Princeton University in the annual Josh Palmer Pigskin Classic.
Kickoff is set for 1 p.m. at Karl Van Norman Field with free admission courtesy of Mansfield University Athletic Corporate Sponsors (Mansfield SGA, Blue Ridge Cable, PSECU, State Farm Insurance, Mansfield University Campus Bookstore).
The game will be broadcast live on WTZN 1310 AM and WTTC 1550 AM as well as WNBT 89.5 FM. The contest will also be streamed on the internet live at www.GoMounties.com.
The Josh Palmer Pigskin Classic raises money for the Josh Palmer Fund. Palmer, a former Mansfield University football player, overcame cancer to return to the football field and started a fund to raise money to support your people afflicted by cancer. Hundreds of thousands of dollars have been raised in the last 10 years.
Fans can help the fund by purchasing t-shirts at the game along with tickets for a raffle of NFL and other professional sports and college items at the game.
Few knew what to expect when Mansfield University announced it was establishing a sprint football program to replace its NCAA Division II program which was dropped for budgetary concerns after the 2006 season.
Although Mansfield has some of the oldest collegiate football traditions, including hosting the world's first night football game in 1892, few players or fans had ever heard of the College Sprint Football League (CSFL).
That all changed last season when Mansfield sprint football was featured on the front-page of the Wall Street Journal before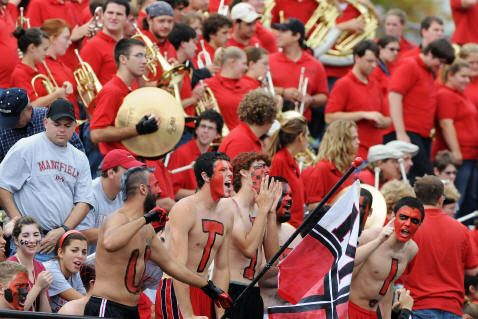 the Mountaineers first home CSFL game against Cornell. Over 3,000 fans attended that game and it was broadcast on live television throughout Pennsylvania, New York and Washington, DC. The game was later rebroadcast across the country on FOXSports.
Fielding a team that included 35 freshmen on a 51-player roster, Mansfield was soundly defeated 35-0 in that first meeting with Cornell and lost to Pennsylvania the next week. But Mansfield improved enough to beat Princeton 28-3 two weeks later.
In the season finale at Cornell, against the same veteran Big Red team that held them to just 14 yards in total offense in their first meeting, Mansfield was leading with seven minutes to play before falling 38-28. Despite the loss, the Mountaineers outgained Cornell 383-343 in total offense and sent an unmistakable message to the league that Mansfield would be a team to be reckoned with in the very near future.
"We're a better program than we were last season," said head coach Dan Davis who enters his second season at the helm of the Mountaineers. "We have 26 players returning from last year's team and 39 freshmen. We're still going to be very young, but we're going to be more skilled and deeper than we were at any point last year."
As a probationary member of the CSFL in 2008, Mansfield played an abbreviated schedule with games against Cornell, Pennsylvania and Princeton finishing a respectable 1-3. Mansfield will add league powers the U.S. Military Academy (Army) and the U.S. Naval Academy (Navy) this season as a full-time member.
Sprint football is varsity collegiate football that is played by the same rules and with the same amount of players as any NCAA program except for a 172-pound weight limit. It is called sprint because of the increased speed of the game.
Mansfield's 65-player roster, the limit for a CSFL team, lists players from 11 states including two from Alaska as well as players from Nevada, Texas, Wisconsin and Maine.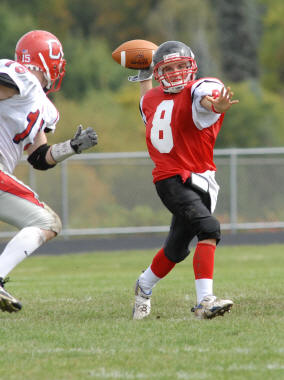 Danny Moss (Anchorage,AK/Diamond) is expected to start at quarterback where he completed more than 50% of his passes for 513 yards and four touchdowns last season. Moss is also a dangerous runner and expected to share time with strong-arm freshman Kode Plank (Pleasant Gap/Bellefonte). Sophomore Sean Kenny (Harrisburg/Science Tech) and freshman Robert Kresge (Reading/Reading) also have strong arms.
Tyler Floyd (Halifax/Halifax) and Lucas Bailey (Canton/Canton) had productive freshman seasons combining for 844 yards in all-purpose yardage. They should spearhead the running game again this year.
Also returning is sophomore Desmond Johnson (Pennllyn/Upper Dublin) while freshmen Daniel Ruiz Freemansburg/Liberty) and Jason Winters (Lockport,NY/Lockport) will serve as backups. Sophomore Michael Steele (Forksville/Montoursville) returns at fullback as does junior Paul Frederick (Lancaster/Penn Manor).
Senior Ryan Bernaiche (Hollis,ME/Bonny Eagle) was third on the team in receptions with 13 for 106 yards and a touchdown in 2008. Fellow senior Matt Gant (Stroudsburg/Pocono Mountain East) had 10 receptions for 81-yards including a touchdown last year while also serving as the punter.
Other returning veteran receivers include sophomores Sam O'Connor (Port Allegheny/Port Allegheny), Kevin Valentine (Tonopah,NV/Tonopah) and Dominik Brown (Yeadon/Penn Wood). Freshmen receivers are Jason Winters (Lockport,NY/Lockport), Jeremy Estremera (Allentonw/Parkland), James Lane (Sayre/Sayre) and Josh Small (Hanover/Hanover).
Junior Ben Anderton (Wellsboro/Homeschooled) is listed at tight end.
Mansfield returns four offense linemen who started at some point last year including Wellsboro's Jerred Keltz. Other returning linemen include sophomores Will Brown (Philadelphia/Central), Andrew Licwinko (Phoenixville/Phoenixville) and Jake Burdick (Owego,NY/Owego Free Academy). An impressive freshmen class features Anthony Rubino (Laurel,DE/Laurel), Jordan Clark (Towanda/Towanda), Connor Rogan (Kodiak,AK/Kodiak), David Perillo (Chester,MD/Kent Island), Cody Morgan (York Haven/Red Land), Nicholas Rutherford (Hamden,NY/Walton Central) and Kevin Baker (Rochester,NY/Gates Chili).
Although they don't return as many players on defense as they do offensively, Coach Davis expects to be just as improved.
The defensive line returns starters Cody Croasdale (Nicholson/Lackawanna Trail) and Daniel Krause (Pine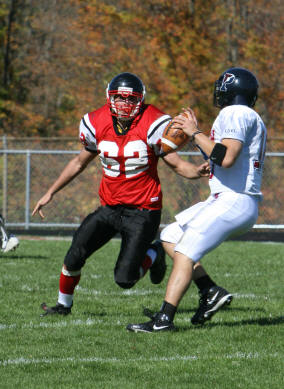 Grove/Pine Grove) who combined for 42 tackles last season. Also looking to earn time on the defensive line are senior Dorsea Palmer (Philadelphia/Bartram Motivation), along with sophomores Justin DiMatteo (Brooklyn,NY/Xaverian), Jonathan Moore (Unadilla,NY/Gilbertsville-Mt. Upton) and David VanLoon (Mansfield/New Covenant Academy).
An impressive group of freshmen consists of Robert Matsch (Horseheads,NY/Horseheads), Dalton Stump (Lancaster,OH/Fairfield Union), Paul Houseknecht (Bally/Boyerstown), Anthony Kellen (Spirit Lake,IA/Worthington), Julio Cicconi (Athens/Athens), Anthony Vallat (Lancaster/Manheim Township) and Matthew Maciejewski (Lancaster,NY/Lancaster).
Although young, Mansfield expects to be very tough at linebacker with returners Eli Morgan (Mansfield/Mansfield), Adam Brion (Mansfield/Mansfield) and Josh Schrum (Johnstown,NY/Gloversville). Look for big contributions from freshmen Aaron Blinn (Fairfield/Fairfield), Brandon Stephens (Windsor,VA/Windsor), Anthony Mazzone (Narberth/Lower Merion), Tommy Zebrowski (Dundee,NY/Dundee Central), and Damon Chalk (Elmira,NY.EFA),
The secondary could be the strength of the defense led by senior Solomon Isom (Philadelphia/Northeast) who was a member of the 2006 Division II team and sophomore Cedric Ingram (Philadelphia/Overbrook). Freshmen include Brandon Couse (Elmira,NY/Elmira Free Academy), Michael Shields (Painted Post,NY/Nolan Catholic), and Michael Wang (Merrick,NY/JFK). Other freshmen in the secondary are Spencer La Mountain (Cobleskill,NY/Cobleskill-Richmondville), Ethan Miller (Charlotte Court House/Randolph-Henry), Harrison (Cody) Chacon (Wimberley, TX/Wimberley), David Wallace (Coplay/Parkland), Zachary Sauers (Montgomery/Montgomery), and Troy Taylor (Carbondale/Carbondale), Trevor McHenry (Elmira,NY/Southside).
Josh Rohm (Scottdale/Southmoreland) is the sole kicker on the roster.