RELEASE DATE: 10/21/09
FOR IMMEDIATE RELEASE: Mansfield sprint football travels to Princeton this Friday – Mounties show improvement in loss to Army in Allegiance Bowl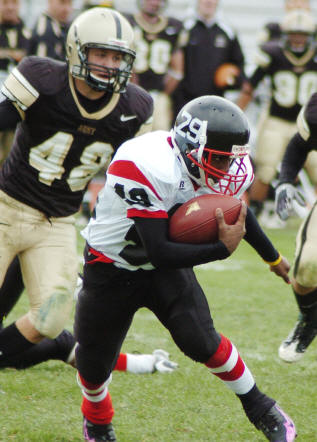 MANSFIELD – The Mansfield University sprint football team will be looking for its second win of the season when the Mountaineers travel to Princeton University this Friday, Oct. 23.
Kick-off is set for 7 p.m. at Powers Field at Princeton Stadium and will be broadcast live on WTZN 1310 AM and WTTC 1550 AM. The broadcast will also be streamed live by ESPN radio on GoMounties.com.
Despite dropping a 42-0 decision to Army last week at the Allegiance Bowl in Saratoga Springs, NY, the Mountaineers showed improvement over their past two outings, rushing for 90-yards on an Army defense that was allowing a staggering low 5.8 yards on the ground to opponents coming into the game. Mansfield also intercepted Army twice, the first two interceptions of the season for the undefeated Cadets.
Princeton fell to 42-0 to Navy last weekend to fall to 0-5 on the season and 0-3 in the CSFL. Mansfield defeated Princeton 33-0 in the season opening game for both programs at Karl Van Norman Field last month. Mansfield is 1-4 on the season.
Benjamin Johnson scored four touchdowns to lead undefeated Army to a 42-0 win over Mansfield last week.
Johnson touched the ball just six times during the game but four of them were big plays resulting in touchdowns. Johnson had 152-yards on four catches and 34 yards on the ground.
Although unable to score against the CSFL's strongest defense, Mansfield showed marked improvements over its last two games. Army had limited its first four opponents to a remarkably low 5.8 yards per game in rushing offense but Mansfield's Luke Bailey rushed for a season high 65 yards on 13 carries alone.
The Mountaineers had 90 of their 177-yards in total offense on the ground with Desmen Johnson picking up 14 yards and Michael Steele 10.
Mansfield, which had seven turnovers in a loss to Navy a week earlier, turned the ball over just once during the game while forcing three Army turnovers. The Mountaineer offense line gave up just one sack to a defense that recorded six against Penn the week earlier.
Freshman quarterback Kode Plank completed 7-of-17 passes for 52 yards while fellow freshman Spencer La Mountain hit 3-of-13 for 33 yards.
Senior Ryan Bernaiche had five catches for 46 yards while freshman Jeremy Estremera had three catches for 23 yards.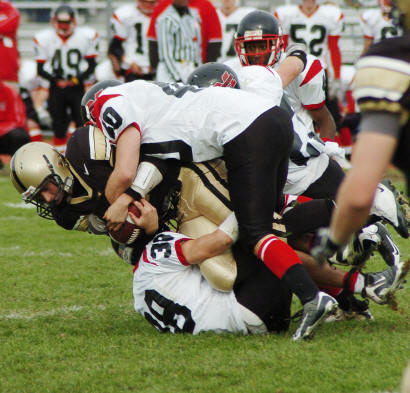 Mansfield's defense played tough with freshman Michael Wang intercepting Army quarterback Tim Meier twice. It marked the first two interceptions thrown by Army this season. Senior defensive end Dorsea Palmer was all over the field racking up 10 tackles including nine solo and 3.5 tackles for-a-loss. He also forced a fumble.
Defensive lineman Daniel Krouse had nine tackles with seven solo and three for-a-loss while also recording a sack. Freshman Trevor McHenry had seven tackles while fellow freshman Aaron Blinn had six stops. In addition to his two interceptions, Wang also had five tackles as did freshman Anthony Mazzone.
Princeton quarterback Jay Zachariah had nine competitions for 89 yards against Navy with four of them going to Robert Addis for 36 yards. Eben Novy-Williams led the defense with 11 tackles. Princeton allowed undefeated Navy just two touchdowns in the first half.
Kode Plank passed for 209-yards and a touchdown in the first meeting with Princeton. It was Plank's first-ever collegiate game. Senior Ryan Bernaiche had four catches for 60-yards and a touchdown in that game.
For the season, Plank has completed 36 passes for 364-yards and a touchdown. Bernaiche has 13 catches on the season for 137-yards while Lucas Bailey has 434 all-purpose yards.
Freshman Aaron Blinn tops the defense with 27 tackles followed by Cody Croasdale and Anthony Mazzone with 24 each. Paul Houseknecht has 21 tackles on the season with Daniel Krouse20 and Dorsea Palmer with 19.
Mansfield will close out its first season as a full-member of the CSFL next Friday night at Cornell.