RELEASE: 10/23/09
FOR IMMEDIATE RELEASE: Desmen Johnson rushes for 121-yards and game-winning touchdown to lead Mansfield to 26-14 win over Princeton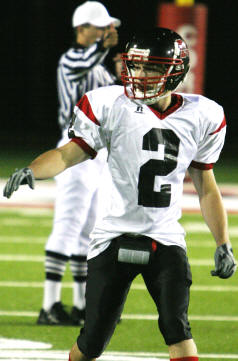 PRINCETON,NJ – Desmen Johnson rushed for 121-yards and scored what proved to be the game-winning touchdown on a 7-yard scamper early in the fourth quarter to lift Mansfield to a 26-14 win over Princeton on a wet Powers Field at Princeton Stadium Friday night.
Johnson, who set a MU sprint football record with his 121-yards on 30 carries, capped off a three-play 21-yard drive to break a 14-14 tie. The drive was set up by David Wallace's fumble-recovery on a muffed punt catch.
Mansfield failed to convert on the PAT-attempt after Johnson's touchdown but held a 20-14 lead.
Mansfield forced a Princeton punt and then mounted a 15-play, 81-yard drive that consumed 7:29 ending with a 1-yard plunge by Luke Bailey for a 26-14 lead with 2:41 to play.
After a scoreless first quarter, Princeton scored on a 44-yard pass from Jay Zachariah to Kees Thompson at the 9:22 mark of the second period.
Mansfield tied the score six minutes later on a pass from Kode Plank to Ryan Bernaiche and the score remained tied at 7-7 at halftime.
Princeton retook the lead five minutes into the third quarter when Zachariah again connected with Thompson, this one for 36-yards and a 14-7 Tiger lead.
But Mansfield would score the game's last three touchdowns, including two by Johnson on a 3-yard run and 7-yard pass to pull out the win.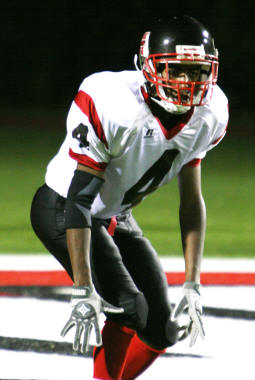 Mansfield compiled 303-yards in total offense to Princeton's 217 and ran 90 offensive plays to the Tigers 51.
Bailey accounted for 205-yards in total offense while Plank connected on 12-of-32 attempts for 116-yards and two touchdowns. Bailey had seven catches for 71-yards while senior Ryan Bernaiche had four catches for 36 yards and a touchdown.
Johnson also caught a 3-yard touchdown pass from Plank late in the third quarter to tie the game at 14-14.
Freshmen Dalton Stump, Michael Wang and Trevor McHenry each recorded five tackles to lead the Mountaineer defense. Stump also recorded an interception as did Cedric Ingram.
Zachariah completed 7-of-25 passes for 142-yards while Thompson caught two passes, both touchdowns, for 80 yards. Princeton turned the ball over six times while Mansfield had no turnovers in the game.
Mansfield improves to 2-4 and travels to Cornell this Friday evening for the final game of the 2009 season.
Quickie Statistics (Final)
Mansfield University vs Princeton (Oct 23, 2009 at Princeton, NJ)
MANS-SFB PRIN
Score......................... 26 14
FIRST DOWNS................... 17 9
RUSHES-YARDS (NET)............ 58-187 26-75
PASSING YDS (NET)............. 116 142
Passes Att-Comp-Int........... 32-13-0 25-7-2
TOTAL OFFENSE PLAYS-YARDS..... 90-303 51-217
Fumble Returns-Yards.......... 1-0 0-0
Punt Returns-Yards............ 3-41 3-28
Kickoff Returns-Yards......... 3-80 4-57
Interception Returns-Yards.... 2-26 0-0
Punts (Number-Avg)............ 9-26.6 6-35.2
Fumbles-Lost.................. 0-0 5-4
Penalties-Yards............... 9-75 11-56
Possession Time............... 41:57 18:03
Third-Down Conversions........ 9 of 23 1 of 10
Fourth-Down Conversions....... 1 of 3 0 of 2
Red-Zone Scores-Chances....... 4-5 0-0
Mansfield University Princeton
Rushing No Yds TD Lg Avg Rushing No Yds TD Lg Avg
Desmen Johnson 30 121 1 31 4.0 K. Infante 12 62 0 29 5.2
Lucas Bailey 14 55 1 18 3.9 Z. Sobel 6 30 0 14 5.0
Michael Steele 5 15 0 6 3.0 K. Thompson 1 6 0 6 6.0
Kode Plank 9 -4 0 7 -0.4 N. Moffat 3 3 0 5 1.0
Passing AttCmpInt Yds TD Lng Passing AttCmpInt Yds TD Lng
Kode Plank 32-13-0 116 2 17 J. Zachariah 25-7-2 142 2 44
Receiving No. Yds TD Long Receiving No. Yds TD Long
Lucas Bailey 7 71 0 17 L. Taylor 3 19 0 12
Ryan Bernaiche 4 36 1 15 K. Thompson 2 80 2 44
Trevor McHenry 1 6 0 6 N. Moffat 2 43 0 23
Desmen Johnson 1 3 1 3
Punting No. Avg Long I20 Punting No. Avg Long I20
Andrew Licwinko 8 29.9 39 3 R. Fritz 6 35.2 49 1
TEAM 1 0.0 0 0
Punt returns No. Yds TD Long Punt returns No. Yds TD Long
Lucas Bailey 3 41 0 21 K. Thompson 2 13 0 10
J. Wolfe 1 15 0 0
Kick returns No. Yds TD Long Kick returns No. Yds TD Long
Michael Steele 1 24 0 24 A. Gabriele 2 45 0 33
Jason Winters 1 18 0 18 S. Gulland 1 5 0 5
Team Qtr Time Scoring play Conversion Plays-Yards TOP MANS-SFB - PRIN
---- --- ---- ------------ ---------- ----------- --- -----------------
PRIN 2nd 09:22 K. Thompson 44 yd pass from J. Zachariah R. Fritz kick 1-44 0:08 0 - 7
MANS-SFB 2nd 03:15 Ryan Bernaiche 15 yd pass from Kode Plank Michael Steele kick 9-53 5:57 7 - 7
PRIN 3rd 10:38 K. Thompson 36 yd pass from J. Zachariah R. Fritz kick 5-85 1:51 7 - 14
MANS-SFB 3rd 00:31 Desmen Johnson 3 yd pass from Kode Plank Michael Steele kick 5-15 2:27 14 - 14
MANS-SFB 4th 12:21 Desmen Johnson 7 yd run S. La Mountain rush failed 3-21 0:41 20 - 14
MANS-SFB 4th 02:34 Lucas Bailey 1 yd run Kode Plank pass failed 15-81 7:29 26 - 14