RELEASE DATE: 9/30/09
FOR IMMEDIATE RELEASE: Mansfield football to play in Franklin Field against Pennsylvania for first time since 1898 this Friday night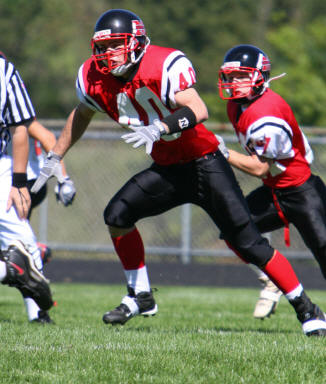 MANSFIELD -- The Mansfield University football team will invade legendary Franklin Field in Philadelphia for the first-time since 1898 when the Mountaineers take on the undefeated University of Pennsylvania Quakers in a CSFL showdown starting at 7 p.m.
The game will also be broadcast live on WTZN 1310 AM and WTTC 1550 AM as well as be streamed live from anywhere in the world on the internet at www.GoMounties.com.
Mansfield last played a football game at Franklin Field just three years after the stadium was first constructed in 1895. While the trip may have been long, the Mountaineers were greeted by a number of familiar faces including Penn head coach George Woodruff, who was a 1882 Mansfield graduate, along with All-American center Peter Overfield, who had played for the Mountaineers just three years earlier.
Penn, perhaps the best team in the nation at the time and on a 34-game win streak, won that game by a 54-0 margin but the Mountaineers were credited in the Philadelphia area papers for their tough and determined play.
111-years later the task is again daunting as the Mountaineers will once again be facing an undefeated Quaker team under the lights Friday night.
Mansfield enters the game with a 1-1 overall record and 0-1 in CSFL play after dropping a 20-0 decision to Cornell in from of more than 2,400 home rain-soaked fans last Saturday. Mansfield shutout Princeton 33-0 in the season opener.
Penn is 2-0 on the season after recording an impressive 20-14 win over Cornell and 57-7 victory over Princeton last week. Penn also beat Mansfield 34-12 last year.
Despite getting into the red-zone four-times, the Mansfield offense struggled most of the day in the setback to Cornell. The offensive managed just 61-yards in total offensive and turned over the ball five times in the loss.
"We're better than that," said head coach Dan Davis. "I don't know how much better we are, but I sure know we're better than we played against Cornell."
Although Davis refused to use it as an excuse, Mansfield has been hard hit by the injury-bug in the early season with the loss of a number of key starters.
"Yes, were a little bit banged up," explained Davis. "But no, you can't blame injuries totally on what happened against Cornell. I don't know how healthy for sure we're going to be at Penn, but I do know that we all better be ready to play against a very good football team."
Mansfield freshman quarterback Kode Plank played just the first half against Cornell after throwing for 209 yards and completing 15-of-27 passes including a touchdown in the win over Princeton. Plank, who completed 2-of-11 attempts for 20 yards with an interception on the rain-slicked field, was replaced in the second half by fellow freshman Robert Kresge who fared little better completing 4-21 passes for 33 yards. The Mountaineer converted on just 1-of-14 3rd down-conversions and turned the ball over five times.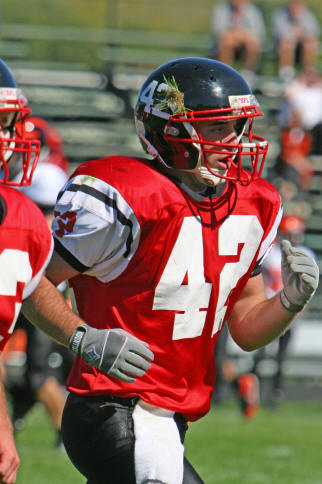 Defensively, Mansfield was on the field for a grueling 84-plays, giving up 353-yards including 334 of them on the ground. Freshman Zachary Sours had a remarkable day recording a game-high 13 tackles, forced a fumble, broke up a pass and recorded a sack. Fellow freshman Aaron Blinn had 10 tackles including nine solo while senior Adam Breon was credited with six tackles, an interception and broke up three passes.
For the season, the Mountaineer defense has been effective against the pass holding opponents to just four completions in 28 attempts including five interceptions. Four of the five top tacklers over the first two games are freshmen.
Penn has gotten off to an impressive start in its wins over Cornell and Princeton. The Quakers sport the CSFL's top offense averaging 465.5 yards per game in total offense.
Sophomore quarterback Todd Busler has completed 70% of his passes in the first two games for 492-yards and four touchdowns. Junior running back Mike Bagnoli has rushed for more than 100 yards in each of the first two games and is averaging 146.5 yards per game for the season.
Busler has four solid targets to throw to including senior Clarke Armatis and freshman Whit Shaw. Both have 12 catches on the season for a combined 321 yards and two touchdowns.
The Quaker defense has allowed just 20 points in two games giving up 242.5 yards per contest in total offense. Michael McMullen tops the team with 14 tackles while Colin Dampier has two interceptions.
Mansfield will return home next week when the Mountaineers host defending CSFL Champion Navy for the first-time in school history as the highlight of the 2009 Homecoming celebration.