RELEASE DATE: 11/03/09
FOR IMMEDIATE RELEASE: Mansfield to host NCAA Division II Atlantic Region Men's and Women's Cross Country Championship this Saturday at Lambs Creek course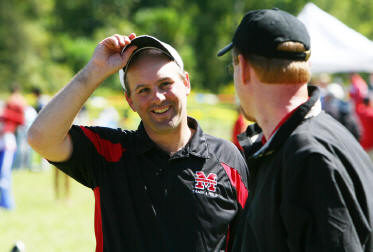 MANSFIELD – History will be made this Saturday when Mansfield University hosts the NCAA Division II Atlantic Region Men's and Women's Cross Country Championship for the first-time in school history.
The regional championship features teams from Pennsylvania, West Virginia, North Carolina and South Carolina and is one of eight NCAA Division Regional's held across the country on Saturday. More than 24 schools and 350 athletes are expected to participate.
The championship event will be held at the Lambs Creek course with driving directions, parking directions and course maps available online at GoMounties.com.
The women's 6K championship race starts at 11:15 a.m. followed by the men's 10K at 12:15 p.m. Awards presented at 2 p.m.
"It's a great event and were proud to bring it to the Northern Tier," said head coach Mike Rohl who was instrumental in getting the regional championship to Mansfield.
"You are going to get a chance to see some of the best runners in all of NCAA Division II compete here including our own runners from Mansfield," explained Rohl. "It's going to be a special day and great event for the area. It's an event you won't want to miss."
One thing is for certain – there will be a new men's champion. Although six of the top ten finishers from last year's Atlantic Regional will be competing on Saturday at Lambs Creek, 2008 winner Chris Clark of California will not be among them.
Edinboro's Ben Hahn was the second-place finisher last season and will be expected to contend for a top spot again this season after finishing seventh overall at last week's PSAC Championship. The other top returners from last year's regional race, Barry McLaughlin of Edinboro, Tim Getz and Nick Hilton of Lock Haven along with Bryan Beegle of Shippensburg and Brandon Pomerantz from Lock Haven were all among the top ten finishers in last season's race.
Hilton and Pomerantz finished 1-2 at last week's PSAC Championship while McLaughlin was in the top 15. Also look for strong performances from IUP freshman Hillary Mugun who was third at the PSAC Championship as well as Edinboro senior Chris Lantinen and Matt Grey of Slippery Rock who were fourth and fifth last week. Lock Haven's AJ Johnson and Mitch Miller were sixth and eighth respectively at the PSAC Championship while Shippensburg's Matt Gillette and Ed Buck were ninth and tenth.
While the PSAC has dominated the event in the past, look for a number of runners from the WVIAC to post strong finishes. Seton Hill's Dominic Camasso won the WVIAC title last week with Nate Edwards of West Virginia Wesleyan placing second and teammate Skyler McCoy third. Wheeling Jesuit's Ryan Beabout was fourth and Jon Bogert of Seton Hill fifth.
Other runners to look for include Chris Werner of California, Frank Fezza of East Stroudsburg. Mansfield's best hope is probably junior Joe Stanek who finished 20th overall at last year's regional and 27th at the PSAC Championship.
Lock Haven, Edinboro, and Shippensburg would have to be considered strong favorites in the team standings after finishing 1-2-3 at last week's PSAC Championship. Lock Haven is the defending Atlantic Regional Champion.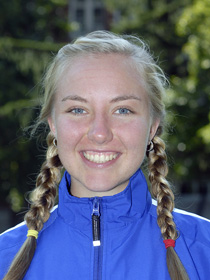 On the women's side, eight of last year's top 10 finishers return including titlist Neely Spence of Shippensburg. Also back are top ten finishers Priscilla Jennings of Millersville, Tina Yi of Edinboro , Christie Turak of Mercyhurst, Andrea Kellock of Bloomsburg, Lindsey Lambert of Lock Haven, Jennifer Harpp of Slippery Rock and Mary Dell of Shippensburg.
Spence placed first in last week's PSAC Championship with Jennings coming in a strong second. Dell was third, Harpp fifth. Don't be surprised to see Mansfield's Brenae Edwards running among the leaders after her sixth place finish at the PSAC Championship.
Also running well in last week's PSAC event was Turak, who finished seventh, Edinboro's Danielle Cerroni who was eighth. Angela Borealo of Bloomsburg was ninth just ahead of teammate Andrea Kellock.
Sherry Barsos of Alderson-Broaddus won the WVIAC title race with Jenna Block of West Virginia Wesleyan finishing second followed by Megan Truelove from Wheeling Jesuit, Ashley Teets of Alderson-Broaddus and Sara Campanelli of Wheeling Jesuit.
Shippensburg is favored to repeat its regional title from last season with strong competition expected from Bloomsburg, Slippery Rock, Lock Haven, Kutztown and Millersville.
The top three women's teams advance to the NCAA Division II National Championship as do the top two men's teams. Any individual runner in the top five also goes if not on a team that advanced to the championship.
Fans are urged to get to Lambs Creek early for the best parking and views of the races.