RELEASE DATE: 10/06/09
FOR IMMEDIATE RELEASE: Mansfield Host U.S. Naval Academy in Historic First Ever Meeting on Gridiron -- Homecoming Showdown Features CSFL's Most Successful and Newest Program's -- Seniors Ryan Beraiche, Adam Breon, Solomon Isom, Matt Gant and Dorsea Palmer Honored in Pregame Ceremonies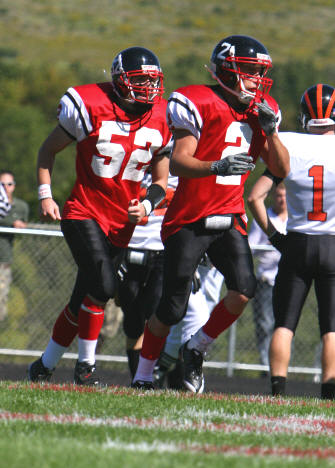 MANSFIELD -- The Mansfield University Mountaineers will host the U.S. Naval Academy this Saturday, Oct. 10 as the highlight of Homecoming Weekend 2009. The contest is the historic first-ever meeting between the two schools sprint football programs.
Kickoff is set for 1 p.m. at Karl Van Norman Field and admission is free compliments of Mansfield Athletic Corporate Sponsors: Blue Ridge Cable, Jim Dinsmore of Liberty Mutual Insurance, the MU Campus Bookstore, PSECU, Laurel Health, State Farm Insurance and the Mansfield University Student Government Association.
Fans are advised to ride the continuously running shuttle vans from the parking area's below the stadium because of construction on the new Allen Hall.
Saturday's game is also the first-ever Senior Day in Mansfield sprint football history with five seniors; Ryan Bernaiche, Adam Breon, Solomon Isom, Matt Gant and Dorsea Palmer being honored during pregame ceremonies.
It marks the final home game of the season for Mansfield which closes out the 2009 campaign with road games against Army, Princeton and Cornell. The game will be broadcast live on WTZN 1310 AM, WTTC 1550 AM and streamed on the internet at GoMounites.com.
Mansfield is in its first season as a full-member of the Collegiate Sprint Football League (CSFL) after competing with a truncated schedule as a start-up program last season. The Mountaineers are 1-2 on the season with a season opening win over Princeton followed by losses to Cornell and Pennsylvania. Head coach Dan Davis has guided the program since its inception.
Navy has been a powerhouse in the CSFL throughout the league's history. Since 2001, the Midshipmen have posted an overall record of 53-3, capturing five league titles including winning the crown in 2007 and 2008 with undefeated records. Navy is 3-0 this season including last week's 18-13 win over Cornell. The Midshipmen are led by head coach Major Jake Jenkins.
Navy has looked forward to its Mansfield trip since the schedule was released last year and will be accompanied by a brigade of Midshipmen and the Pipes and Drums Corps band. The Midshipmen will march and the Pipes and Drums Corps will perform will also perform in the Homecoming Parade through downtown Mansfield prior to the game.
After a 33-0 season opening win over Princeton, in which they racked up 343-yards in total offense, a young Mountaineers, with 39 newcomers on this year's roster, have struggled in losses to Cornell and Penn.
Last Friday night at Franklin Field, a young and banged-up Mountaineer team was held to 72 yards in total offense in the 49-0 loss. Sophomore running back Tyler Floyd gained 25 yards on ground with fullback Paul Frederick adding 22 yards.
Freshmen quarterbacks Kode Plank and Robert Kresge completed 7-of-24 of their passes for 44 yards.
The defense was led by four freshmen with Michael Shields recording six tackles and intercepting a pass. Brandon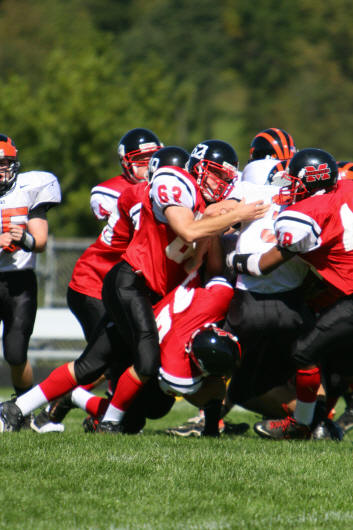 Couse also was credited with six stops while Aaron Blinn and Paul Housknecht both had five tackles.
For the season, Mansfield is averaging 157.8 yards per game in total offense with Plank completing 23-of-55 passes for 265 yards and a touchdown. Senior Matt Gant has been the Mountaineers most consistent receiver with 12 catches on the season for 131 yards. Fellow senior Ryan Bernaiche has six catches for 73 yards and a touchdown while sophomore Lucas Bailey has caught five passes for 47 yards.
Floyd has handled most of the running chores carrying the ball 30 times for 93 yards.
A banged-up defense, missing three of its top players, has been led by Blinn with 20 tackles on the season including four for a loss. Housknecht has 13 tackles with four of them for a loss and Shields 11 tackles and an interception. Anthony Mazzone and Cody Croasdale each have 10 tackles on the season.
Navy extended its winning-streak to 19 straight games with the victory over Cornell last week. Senior Taylor Hawkins led the defense, which limited Cornell to 202 yards in total offense, with 18 tackles. Junior quarterback Tyler Terronez competed 13-of-37 passes for a career-best 282 yards and two touchdowns to lead the offense.
For the season, Terronez has completed 31-of-78 passes for 527 yards and five touchdowns. Nate Stewart tops the rushing attack with 171 yards and a touchdown. JoJo Catrini has been the top receiver thus far this season with 12 receptions for 249 yards and two scores.
Defensively Navy has limited opponents to an average of 11 points and 229.7 total offensive yards per game this season. The Midshipmen have been led by Hawkins, with 45 stops on the season, followed by Cartwright Hall and Viet Vo with 24 tackles each.
Mansfield will travel to Saratoga Springs, NY this coming Saturday when they face Army in the 2009 Allegiance Bowl.