RELEASE DATE: 8/31/09
FOR IMMEDIATE RELEASE: More than 80 attend first sprint football meeting – large recruiting class sizes itself up again veterans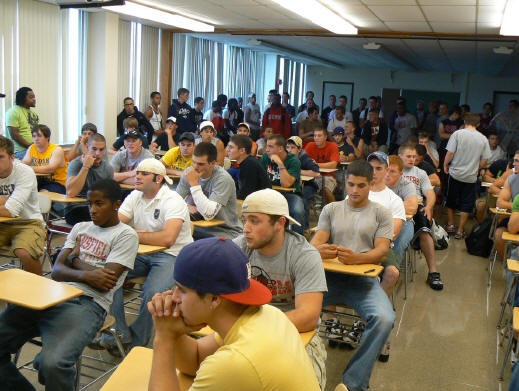 MANSFIELD – More than 80 hopeful student-athletes attending the first meeting of the 2009 Mansfield University sprint football program Monday afternoon at Decker Gymnasium.
"Not a bad looking group of players," said head coach Dan Davis as he enters his second season at the helm of the program. "I'm pretty pleased. Almost everyone we expected to be here is here and for the most part they look like they are already in good physical condition."
More than 30 veterans, including most of the starters, return from last year's team. Mansfield was voted a full-member of the Collegiate Sprint Football League (CSFL) this past November and will be eligible for the league championship and individual post-season honors.
Mansfield will play a full seven-game schedule starting on Sept. 19 when the Mountaineers host Princeton. Mansfield will host Cornell on Sept. 26 before traveling to the legendary Franklin Field in Philadelphia to play Pennsylvania on Friday, Oct. 2 before returning to Karl Van Norman Field to host defending CSFL Champion Navy for Homecoming on Oct. 10.
Mansfield then travels to Saratoga Springs, NY to take on Army in the Allegiance Bowl and will round out the season with away night games at Princeton on Oct. 23 and Cornell on Oct. 30.
The team is schedule to practice this Thursday from 4-6 p.m. and practice all through Labor Day Weekend including an intra-squad scrimmage on Monday.
###