RELEASE DATE: 10/27/09
FOR IMMEDIATE RELEASE: Mansfield travels to Cornell in 2009 sprint football finale this Friday – Mountaineers coming off 26-14 win to improve to 2-4 on season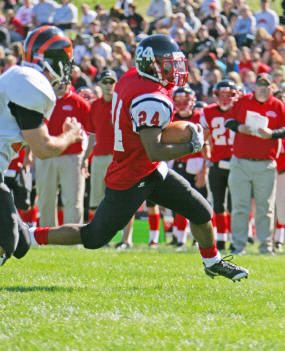 MANSFIELD – The Mansfield University Mountaineers will travel to Cornell this Friday in the final game of the 2009 sprint football season for both teams.
Kickoff is set for 7 p.m. at Schoellkopf Field. The game is scheduled to be broadcast live on WTZN 1310 AM and WTTC 1530 AM as well as streamed on the internet at www.GoMounties.com.
You can also follow the game on live-stats at http://livestats.internetconsult.com/cornell/sprint/
It marks the second time the two teams will meet this season. Cornell won 20-0 at Mansfield on Sept. 26.
Mansfield, with 86% of its roster comprised of underclassmen, improved to 2-4 overall and 1-4 in the CSFL with a 26-14 win at Princeton last Friday evening. Cornell dropped a 10-9 heartbreaker to Army and is 3-3 on the season and 3-2 in the CSFL. All three of Cornell's losses have come by six or less points.
Desmen Johnson rushed for 121-yards and scored what proved to be the game-winning touchdown on a 7-yard scamper early in the fourth quarter to lift Mansfield to a 26-14 win over Princeton on a wet Powers Field at Princeton Stadium Friday night.
Johnson, who set a MU sprint football record with his 121-yards on 30 carries, capped off a three-play 21-yard drive to break a 14-14 tie. The drive was set up by David Wallace's fumble-recovery on a muffed punt catch.
Mansfield failed to convert on the PAT-attempt after Johnson's touchdown but held a 20-14 lead.
Mansfield forced a Princeton punt and then mounted a 15-play, 81-yard drive that consumed 7:29 ending with a 1-yard plunge by Luke Bailey for a 26-14 lead with 2:41 to play.
After a scoreless first quarter, Princeton scored on a 44-yard pass from Jay Zachariah to Kees Thompson at the 9:22 mark of the second period.
Mansfield tied the score six minutes later on a pass from Kode Plank to Ryan Bernaiche and the score remained tied at 7-7 at halftime.
Princeton retook the lead five minutes into the third quarter when Zachariah again connected with Thompson, this one for 36-yards and a 14-7 Tiger lead.
But Mansfield would score the game's last three touchdowns, including two by Johnson on a 3-yard run and 7-yard pass to pull out the win.
Mansfield compiled 303-yards in total offense to Princeton's 217 and ran 90 offensive plays to the Tigers 51.
Bailey accounted for 205-yards in total offense while Plank connected on 12-of-32 attempts for 116-yards and two touchdowns. Bailey had seven catches for 71-yards while senior Ryan Bernaiche had four catches for 36 yards and a touchdown.
Johnson also caught a 3-yard touchdown pass from Plank late in the third quarter to tie the game at 14-14.
Freshmen Dalton Stump, Michael Wang and Trevor McHenry each recorded five tackles to lead the Mountaineer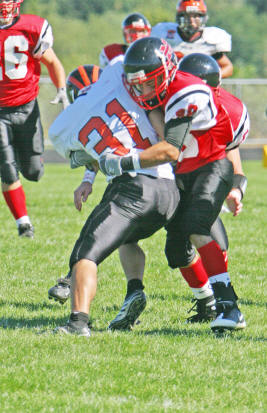 defense. Stump also recorded an interception as did Cedric Ingram.
Zachariah completed 7-of-25 passes for 142-yards while Thompson caught two passes, both touchdowns, for 80 yards. Princeton turned the ball over six times while Mansfield had no turnovers in the game.
For the season, Plank has connected 49-of-128 attempts for 480 yards and three touchdowns. He has thrown seven interceptions. Bernaiche has a team-best 17 catches for 173 yards and two touchdowns while Bailey has 16 catches for 150 yards.
Johnson leads the rushing attack with 182 yards on 16-carries with two touchdowns.
Sophomore defensive lineman Cody Croasdale tops the defense with 28 tackles, including four TFL's, on the season. Freshman lineback Aaron Blinn has 27 tackles with fellow Anthony Mazzone coming in with 26. Senior defensive end Dorsea Palmer has 23 tackles.
The Cornell defense stopped the top-rated rushing Army attack, holding the visitors to just 84 yards on the ground, including a mere 33 in the first half. Cornell only allowed 111 total yards, and held the Black Knights to just four pass completions. John Parke led the Big Red with 10 tackles, and Kevin Schmidt had the lone Cornell sack. John Mackintosh and Evan Levy both had interceptions.

Cornell's offense was led by a breakout performance from senior Dan Rowoth, who led the team with 56 yards on the ground on just eight carries (7.0 ypc). Elliot Corey passed for 106 yards, with 57 of them to Upal Sarker.
For the season, DJ Schiavetta tops the team in rushing averaging 75.2 yards per game. Elliot has 210 yards on the ground while Matthew Pierce has 209. Elliot has connected of 41-of-115 pases for 610 yards and four touchdowns while being intercepted six times.
Chris La Berge is the Big Red's leading receiver with 15 catches for 174 yards while Upal Sarker has 13 catches for 215 yards and two touchdowns.
Senior linebacker John Parke tops the defense with 48 tackles while Clay Heminger has 36 stops.