RELEASE DATE: 9/23/09
FOR IMMEDIATE RELEASE: Mounties Host Cornell as part of 1890s and Parent's & Family Weekend -- Mansfield 1-0 after defeating Princeton 33-0 last week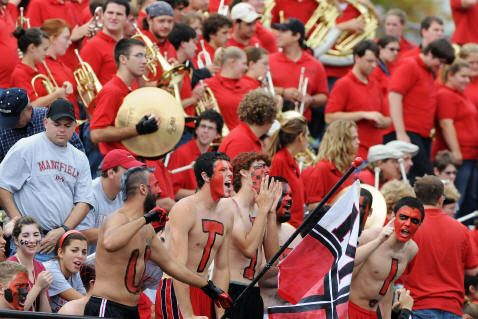 MANSFIELD -- The Mansfield University Mountaineers will host the Cornell University Big Red this Saturday as part of Mansfield's 1890s and Parent's and Family Weekend celebration. Kickoff is set for 1 p.m. at Karl Van Norman Field.
Admission is free courtesy of Mansfield University Athletic Corporate Sponsors (Mansfield University Bookstore, Blue Ridge Cable, PSECU, State Farm Insurance, and Mansfield SGA). The game will be broadcast live on WTZN 1310 AM, WTTC 1550 AM and WNTE 89.5 FM. The game will also be stream on the internet at www.GoMounties.com.
Construction Limits Parking at Karl Van Norman Field -- Shuttle Service Provided for Football Fans this Saturday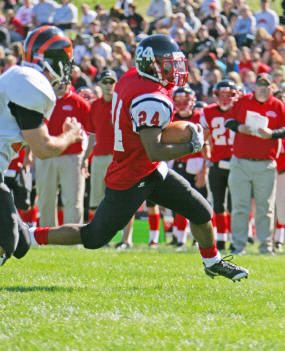 Although Mansfield is in its first season as a full-time member of the Collegiate Sprint Football League (CSFL), the two teams did meet twice in 2008. Cornell won both outings, recording a 35-0 win at Van Norman Field before rallying for a 38-28 victory over a much improved Mountaineer team in the season ender at Cornell. Mansfield held a lead with seven minutes to play in that game.
Mansfield enters Saturdayís game with a 1-0 mark after shutting out Princeton 33-0 before more than 2,000 fans last Saturday at Van Norman. Cornell dropped a 20-14 thriller to Pennsylvania in its season opener.
The Mountaineers offense compiled 343-yards in total offense in the win over Princeton while the defense held the Tigers to negative total yardage in a dominating effort. Freshman quarterback Kode Plank had a coming-out party for Mansfield, completing 15-of-27 passes for 209 yards and a touchdown with no interceptions.
Senior Matt Ghant proved to be his favorite target with seven catches for 90 yard. Fellow senior Ryan Bernaiche had four receptions for 60-yards including an 18-yard touchdown. Desmond Johnson and Tyler Floyd led the ground game combining for 87-yards while fullback's Michael Steele and Paul Frederick each had touchdown runs.
The offense line showed consistent improvement during the game behind first game starters Andrew Licwinko, Jarred Keltz, Jordan Clark, Connor Rogan and Will Brown.
On defense, the Mountaineers used a team-effort that never allowed Princeton to get untracked. Almost 30 players were credited with tackles with four players, Adam Breon, Cedric Ingram, Josh Schrum and Eli Morgan, all had interceptions. Morgan returned his interception for a 35-yard touchdown. Other top defenders in the season opener included Cody Croasdale, David Wallace and Aaron Blinn.
Cornell sports a veteran laden squad again this season with 23 seniors and 46 upperclassmen on the roster. The defense
returns eight starters from last season while junior quarterback Elliot Corey directs the offense.
Corey, who appeared in both games against Mansfield last season, completed just 5-of-9 passes last week but they accounted for a whopping 153-yards including a touchdown. He was intercepted twice. Corey also scrambled for 55-yards on 16 carries. D.J. Schiaveitta added 71-yards on 12 carries.
Although it gave up 383-yards in total offense against Penn, the Cornell defense came up with big plays when it counted. Clay Memminger led the way with 14 total tackles while Matt Ferrari added 11 tackles and a sack. Senior all-league selection John Parke had eight tackles and blocked a punt and Tim Kozen had two of his teamís four sacks.
The Mountaineers make their second-ever trip to Penn next Friday taking on the Quakers at legendary Franklin Field. Mansfield played its first game at Penn in 1898 when Mansfield alum George Woodruff was the Quakers head coach and former Mansfield standout Peter Overfield was Pennís All-American center.
Mansfield returns to Van Norman Field on Saturday, Oct. 10 to host Navy for the first-time in school history as part of Homecoming Weekend.