RELEASE DATE: 10/28/09
FOR IMMEDIATE RELEASE: Mansfield's Lucas Bailey named CSFL Offensive Player of the Week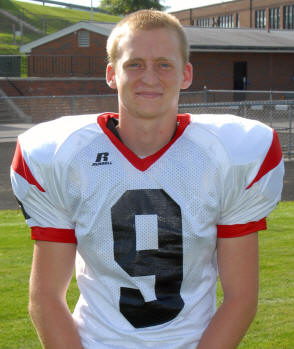 MANSFIELD – Mansfield University standout Lucas Bailey (Canton/Canton) has been named the Collegiate Sprint Football League (CSFL) Offensive Player of the Week for the week ending 10/28/09.
Bailey becomes the first Mountaineer player ever selected for CSFL Offensive Player of the Week honors after amassing 205 all-purpose yards in Mansfield's 26-14 win at Princeton. It was the Mountaineers second win in six games since becoming a full-time member of the CSFL this season.
Bailey made the big plays in three touchdown drives in the final 15 minutes of the game to lead a Mansfield comeback. With Mansfield trailing 14-7 late in the third quarter, Bailey returned a punt 20 yards to the Princeton 15 before catching a 8-yard pass on 3rd and 6 to give MU a first and goal at the 3-yard line. The Mountaineers scored the tying touchdown on the next play.
In the fourth quarter with Mansfield holding a 20-14 lead and Mansfield facing a 3rd and 7 from its own 33, Bailey caught a 17-yard pass to keep the drive alive and picked up 18-yards on a run the very next play. Two plays later Bailey caught a 15-yard pass before scoring on a 1-yard touchdown run capping off a 15-play, 81 yard drive that consumed 7:29 to give Mansfield an insurmountable 26-14 lead with 2:30 to play.
Bailey was Mr. Everything in the game for Mansfield, catching seven passes for 71 yards, rushing 14 times for 55 yards, returning three punts for 41 yards and a kickoff for 38 yards.
Mansfield closes out the 2009 season at Cornell this Friday night.