RELEASE DATE: 11/16/09
FOR IMMEDIATE RELEASE: Mansfield places seven on All-CSFL team -- Daniel Krause named to 1st Team All-CSFL Honors – Lucas Bailey, Jordan Clark, Cedric Ingram, Cody Croasdale, Paul Houseknecht, Dorsea Palmer earned 2nd Team honors – nine earn honorable mention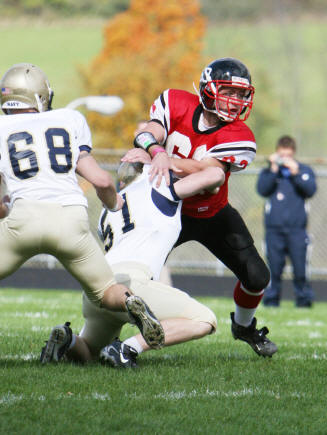 MANSFIELD – Sophomore defensive linemen Daniel Krause (Pine Grove,Pine Grove) was selected to 1st team honors while Lucas Bailey (Canton/Canton), Jordan Clark (Towanda/Towanda), Cody Croasdale (Nicholson/Lackawanna Trail), Paul Houseknecht (Bally/Boyertown), Cedric Ingram (Philadelphia/Overbrook) and Dorsea Palmer (Philadelphia/Bartram) earned 2nd Team All-CSFL honors in voting conducted among the head coaches of the Collegiate Sprint Football League.
In addition nine Mansfield players; Aaron Blinn (Fairfield/Fairfield), Ryan Bernaiche (Hollis,ME/Bonny Eagle), Adam Breon (Mansfield/Mansfield), Soloman Isom (Philadelphia/Northeast), Anthony Mazzone, Narbeth/Lower Marion), Trevor McHenry (Elmira,NY/Southside), Eli Morgan (Mansfield/Mansfield), Brandon Stephens (Windsor,VA/Windsor) and Michael Wang (Merrick,NY/JFK) received honorable mention.
It was an historical milestone for the Mountaineer program to have seven players selected to 1st or 2nd team All-CSFL honors in just its first season as a full-member in the league. Mansfield finished fifth in the six team league in its inaugural season with a 1-4 league mark and 2-5 overall record. The other teams in the CSFL are Army, Navy, Cornell, Pennsylvania and Princeton.
The entire Mansfield defensive front line earned All-CSFL honors. In addition to Krause on the first team, Cody Croasdale, Paul Houseknecht and Dorsea Palmer were second team selections.
A sophomore, Krause started every game during the season racking up 23 tackles including 15 solo. He also had 5.5 tackles for a loss and a sack.
Bailey was the Mountaineer most consistent offensive player during the season. The sophomore was selected at running back where he averaged 3.9 yards per carry. He also caught a team-best 22 passes for 186 yards and accounted for 752-yards in all-purpose offense. Bailey was third in the CSFL in pass receptions.
Clark earning a starting spot as a freshman at tackle while Ingram started all seven games at cornerback where he had 12 tackles and two interceptions.
Croasdale, a sophomore defensive end, had 28 tackles on the season including four for a loss and a sack. Houseknecht started at defensive tackle as a freshman where he was credited with 23 tackles including 5.5 for a loss. A senior defensive end, Palmer had 28 tackles including a team-best 8.5 for a loss and a sack.
A freshman linebacker Blinn led the team in tackles with 37 on the season while Bernaiche, a senior, had 18 receptions for 219 yards and two touchdowns. Breon, a senior linebacker who suffered a season ending injury in the third game of the season, had 12 tackles and two interceptions. Isom, who led the team in tackles last season, also had his season shortened by injury.
A freshman defensive back, Mazzone was second on the team in tackles with 33 while fellow freshman McHenry was credited with 25 tackles and an interception. Morgan, a junior, had 14 tackles and an interception.
Stephens and Wang, both freshmen, had 21 and 20 tackles respectively with Wang also recording two interceptions.
Mansfield will open the 2010 season by hosting Cornell on Sept. 18.