RELEASE DATE: 8/13/09
FOR IMMEDIATE RELEASE: Mansfield announces 2009 sprint football schedule – Mountaineers host Princeton, Cornell and Navy in first full season of CSFL competition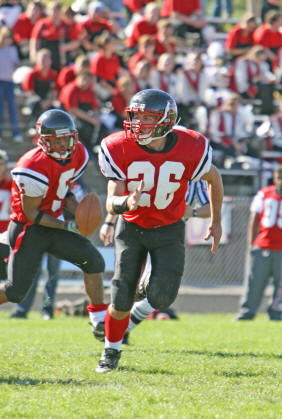 MANSFIELD – Mansfield University will host Princeton University, Cornell University and the U.S. Naval Academy at Annapolis (Navy) in the Mountaineers first season as a full-member of the Collegiate Sprint Football League (CSFL).
Mansfield, which went 1-3 in an abbreviated schedule last year in its first season of sponsoring a sprint football program, will play a full seven-game schedule this season and be eligible to compete for the CSFL championship and post-season honors.
Mansfield hosted Princeton in a season-opening scrimmage in 2008 and hosted Cornell in the program's first-ever official game last year.
It marks the first trip to Mansfield for Navy. The Midshipmen are the defending CSFL Championship after posting an undefeated record in 2008.
Mansfield's away schedule is highlighted by an appearance against the U.S. Military Academy at West Point (Army) in the Allegiance Bowl in Saratoga Springs, NY as well as games at Franklin Field against the University of Pennsylvania, against Princeton at Princeton Stadium and a season-ending contest against Cornell at Schoellkopf Stadium.
Mansfield expects 40 players to return from last year's team and recently announced a 2009 recruiting class of 47 incoming freshmen.
Sprint football is varsity collegiate football that uses the same amount of players, rules and regulations as any NCAA football program with the exception of a 172-weight limit on players. Mansfield is the only public university in the nation to offer sprint football.
MANSFIELD UNIVERSITY 2009 SPRINT FOOTBALL SCHEDULE
Saturday
Sept. 19
PRINCETON UNIVERSITY
(Josh Palmer Pigskin Classic)
1 p.m.
Saturday
Sept. 26
CORNELL UNIVERSITY
(1890's and Parent's & Family Weekend)
1 p.m.
Friday
Oct. 2
at University of Pennsylvania
7 p.m.
Saturday
Oct. 10
NAVY
(Homecoming Weekend)
1 p.m.
Saturday
Oct. 17
vs. Army
(Allegiance Bowl in Saratoga Springs, NY)
1 p.m.
Friday
Oct. 23
at Princeton University
7 p.m.
Friday
Oct. 30
at Cornell University
7 p.m.