RELEASE DATE: 9/29/08
FOR IMMEDIATE RELEASE: Jim Keenan named 2008 Butsko Award Winner
Photo -- Former Butsko Award winners with 2008 recipient Jim Keenan (L-R -- Anne Lavancher former wife of late Butsko winner Steve Zegalia, Director of Football Operations Tom Elsasser and 2003 Butsko Award recipient -- Elsasser also served as head coach of the Mountaineers during Keenan's career, 1986 Butsko Award recipient Rod Pursell, 1994 Butsko Award recipient John Atkins)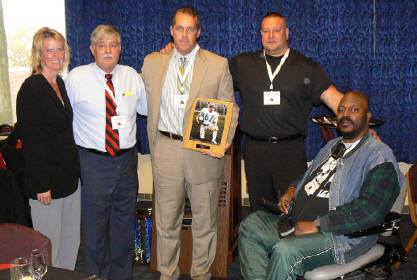 MANSFIELD – Former Mansfield University standout Jim Keenan was named the recipient of the 2008 Frank Butsko Award at the Butsko Breakfast Saturday morning before the Mountaineers historic sprint football game with Cornell.
The Butsko Award is Mansfield football's most prestigious award and presented to an offensive lineman or coach whose actions and dedication to the Mountaineer football program mimic those of Frank Butsko.
Butsko was the offensive line coach for the Mountaineers when he was tragically killed, along with a football recruit, in an automobile accident while driving to Mansfield in January of 1986.
During his time at Mansfield, coach Butsko was a role model for many of his offensive players instilling a sense of loyalty and dedication to their fellow teammates along with an intense work ethic.
To honor his memory the Butsko Award was established in the spring of 1986 and has been presented annually at the Butsko Breakfast prior to the spring football game.
Keenan was a three-year starter on the offensive line for the Mountaineers and was a preseason All-American entering his senior season in 1991. In the first play of the first game of the season at Cortland, Keenan suffered a career-ending knee injury.
His ability to overcome adversary and his continued loyalty to the Mansfield football family made him the unanimous choice for the 2008 Butsko Award.
Presented in front of a large audience including the 2008 Mountaineer sprint football team, Keenan, who was accompanied by is wife Julia, a former Mountaineer women's basketball player, and his parents James and MaryAnn Keenan, spoke passionately of intensity, focus and the special place Mansfield football and his former teammates held in his life.