RELEASE DATE: 7/16/07
FOR IMMEDIATE RELEASE: Angie Stackhouse named full-time assistant softball coach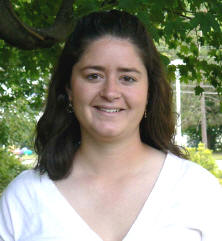 MANSFIELD – Angie Stackhouse, a former softball standout and assistant coach at Bucknell University, has been hired as the full-time assistant coach for the Mountaineer softball program.
The announcement was made today by Mansfield University head softball coach Edith Gallagher.
"We're very please to have Angie join our staff," said Gallagher. "She's been successful as a player and a coach at Bucknell and we're confident that success will follow her to Mansfield. Angie's well versed in all aspects of the game and will have an immediate impact on our program."
A standout at Hughesville High School, Stackhouse matriculated to Bucknell where she quickly established herself as one of the best catchers in Bison history.
Stackhouse was a starter in 151 of 159 games from 2001-2004 recording a .289 career batting average with 10 home runs and 76 runs batted in.
A first-team All-Patriot League selection in 2004 as a senior, Stackhouse was the second leading hitter in the Patriot League with a .402 batting average. Her 49 hits that season included 10 doubles and six home runs with 35 runs batted in. The six home runs tied the Bucknell single season record while the 35 RBI's broke the Bison school record.
Stackhouse graduated from Bucknell in May of 2004 with a Bachelor of Science degree in business administration, with a religion minor. Following graduation Stackhouse spent the summer playing softball in the top league in Stockholm, Sweden with the Alby Club.
Stackhouse rejoined the Bison as first assistant coach for the 2005 season and has served as the graduate assistant for the past two seasons were she has recently completed her classroom requirements for a masters of science degree in education in college student personal.