RELEASE DATE: 4/08/09
FOR IMMEDIATE RELEASE: Softball drops twinbill at Bloom
Game One Box Score
Game Two Box Score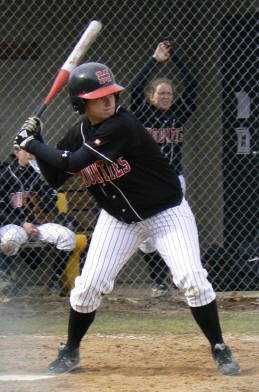 BLOOMSBURG – Megan Trutt (Mifflinburg/Mifflinburg) hit her first collegiate home run but it wouldn't be enough as Mansfield dropped a PSAC East doubleheader 5-1, 9-2 at nationally ranked Bloomsburg Tuesday afternoon.
In the opener, Bloomsburg took 2-0 lead after three innings before Trutt led off the top of the fourth with a solo home run to close the gap 21.
Bloomsburg would add a run in the bottom of the inning and two more in the sixth to pull out the win. Lindsey Knapp started and took the loss for Mansfield. She was relieved by Michelle Forsburg (Vestal,NY/Vestal) in the fourth and Melissa Baer (Williamsport/Williamsport) in the sixth.
Shana Markwis (Milford/Delaware Valley) had two of Mansfield's four hits in the game.
Ashley Lynn won her 13th game of the season for Bloomsburg striking out 14.
In the nightcap, Bloomsburg took a 4-0 lead after three innings before closed to 4-2 with a pair of runs in the fourth.
Whitney Brown (Troy/Troy) took the loss giving up three earned runs in four innings before being relieved by Knapp.
Tara Reed improved to 7-1 with the win for Bloomsburg.
Mansfield will travels to Shippensburg on Friday.
GAME ONE
Mansfield 000 100 0 1-4-1
Bloomsburg 110 102 x 5-7-0
Mansfield (7-13, 1-10 PSAC East): Lindsey Knapp (L, 2-4), Michelle Forsburg (4), Melissa Baer (6) and Jen Stein
HR – Megan Trutt (1) RBI Trutt
Bloomsburg (27-5, 6-3 PSAC East): Ashley Lynn (W, 13-2) and Tiff Corliss
2b – Tara Reed, Shavaun Fisher, Kayleen Sidisky RBI – Reed 2, Sidisky
GAME TWO
Mansfield 000 200 0 2-4-4
Bloomsburg 013 221 x 9-10-0
Mansfield (7-12, 1-9 PSAC East): Whitney Brown (L, 3-6), Knapp (5) and Jennifer Messner
RBI – Gabriella Carrullo
Bloomsburg (28-5, 7-3): Tara Reed (W, 7-1) and Corliss
RBI – Mandy Koch 2, Kayleen Sidisky 2, Emily Young, Jess Rosin, Jill Homyak, Reed