RELEASE DATE: 2/10/08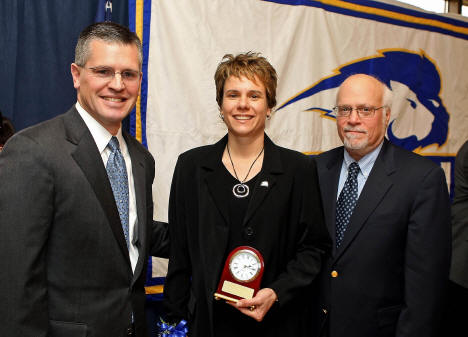 FOR IMMEDIATE RELEASE: Edith Gallagher inducted into Hofstra University Hall of Fame
MANSFIELD – Mansfield University head softball coach Edith Gallagher was recently inducted in the Hofstra University Athletic Hall of Fame.
Gallagher, who has served as Mansfield's head softball coach since 1992, was one of an 11-person class to be honored on Feb. 2.
Gallagher, a two-sport athlete in field hockey and softball, played at Hofstra from 1986 through 1989. An honorable mention Field Hockey All-American in 1989, Edith also was named to the All-Mid-Atlantic Region team and was a two-time All-East Coast Conference selection. As a softball player, Edith was an All-Northeast Region and an All-ECC choice in 1989.
L-R -- Hofstra AD Jack Hayes, Edith Gallagher, Hofstra President Stuart Rabinowitz
Gallagher first came to Mansfield as an assistant softball and field hockey coach in 1989 and took over the head coach position in both sports in 1992. She continued on to serve in both positions until after the 1994 season when she concentrated on softball only.
She has won 265 games in softball during her 16 year coaching career at Mansfield earning five ECAC playoff berths and twice capturing the ECAC Championship.
Gallagher is a 1989 graduate of Hofstra with a degree in health and physical education.