RELEASE DATE: 4/03/10
FOR IMMEDIATE RELEASE: Mounties drop a pair of heart-breakers to No. 23 West Chester
Game One Box Score
Game Two Box Score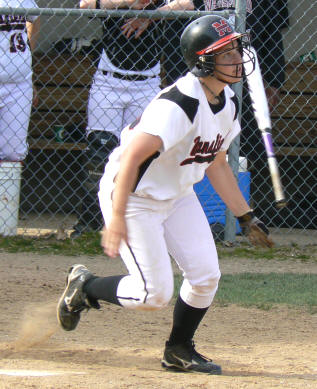 MANSFIELD – The Mansfield University softball team dropped a pair of one-run heartbreakers to No. 23 ranked West Chester 1-0, 4-3 in a PSAC interdivisional doubleheader at Helen Lutes Field Saturday afternoon.
The opener was a pitching dual between Mansfield's Melissa Baer and West Chester's Brooke Muth. West Chester scored what proved to be the game's only run scoring on a RBI double by Evelyn Anderson in the top of the first inning.
Mansfield threatened in the bottom of the seventh when Aundraa Polk led off with a single to center and Kelley Pfleegor walked to give the Mountaineers runners at first and second with no outs. But Murth struck out the next two batters looking before getting the final ground out to preserve the win.
Baer scattered five hits and struck out four while Murth allowed four hits with seven strikeouts.
In the nightcap, Mansfield outhit West Chester 12-7 but stranded 10 runners with two runners also being thrown out at the plate.
West Chester got a run in the top of the first before Mansfield tied the game on an RBI single by Jordan Rishel in the bottom of the fourth. Mansfield got two more runs the next inning with both of them scoring on a two-out double to right by Pfleegor.
But West Chester came right back knocking Mansfield starter Caitlin Klolbosits out of the game with three runs in the sixth. Mansfield threatened to tie the game in the bottom of the sixth when Rishel doubled but was thrown out at the plate when trying to score on a singled by Gab Carrullo.
The Mountaineers threatened again in the seventh with two hits but couldn't push the tying run across.
Mansfield, which has played three national ranked teams over the last four days, falls to 9-9 on the season and will host Clarion in a rescheduled doubleheader on Tuesday afternoon starting at 2:30 p.m. at Helen Lutes Field.
GAME ONE
West Chester 100 000 0 1-5-0
Mansfield 000 000 0 0-4-1
West Chester (24-7): Brooke Muth (W, 10-5) and Katie Kmiecinski
2b – Evelyn Anderson RBI – Anderson
Mansfield (9-8): Melissa Baer (L, 4-4) and Jen Stein
GAME TWO
West Chester 100 003 0 4-7-1
Mansfield 000 120 0 3-12-2
West Chester (25-7): Missy Schwartz, Brooke Muth (11-5) and Kmiecinski
2b – Erin MacNamee, Missy Schwartz RBI – MacNamee 2, Evelyn Anderson, Stefani Kerbacher
Mansfield (9-9): Caitlin Klobosits, Milissa Baer (6) and Erin Carroll, Chara Dixon (3)
2b – Stein 2, Kelley Pfleegor, Jordan Rishel RBI – Pfleegor 2, Jordan Rishel