RELEASE DATE: 3/05/10
FOR IMMEDIATE RELEASE: Mansfield softball opens 2010 season with sweep over Shaw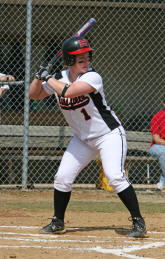 RALEIGH,NC – Melissa Baer and Caitlin Klobosits each picked up complete game wins and Megan Trutt, Nicole Yost and Erin Carroll all hit home runs to lead Mansfield to a season opening 15-4, 17-1 sweep at Shaw University Friday afternoon.
Baer scattered three hits and struck out six in the opener while the offense pounded out 13 hits including a solo home run by Trutt to lead off the bottom of the third inning. Freshman Chara Dixon went 2-3 with two doubles in her first collegiate game while Nicole Yost went 2-2 with an RBI and Jen Stein 2-3 with three RBI.
In the nightcap Klobosits recorded her first collegiate win allowing three hits while striking out eight and allowing no earned runs. Yost and Erin Carroll each hit home runs, with Yost hitting a three-run blast in the third and Carroll a three-run shot in the fourth. Janelle Antes went 5-5 with RBI.
Mansfield goes to Myrtle Beach, SC for the Snowbird Tournament where they play Delaware Tech on Sunday.
GAME ONE
Mansfield 146 40 15-13-1
Shaw 200 20 4-3-3
Mansfield (1-0): Melissa Baer (W, 1-0) and Jen Stein, Nicole Yost (4)
2b – Chara Dixon 2, Nicole Yost, Jen Stein, Danielle Long
HR – Megan Trutt (1) RBI: Stein 2, Trutt 2, Long 2, Yost, Janelle Antes, Gab Carrullo, Kelley Pfleegor
Shaw (0-11): Detra Morrow (L) and Shanequah Goodson
RBI – Aerial Sanders
GAME TWO
Mansfield 046 52 17-13-1
Shaw 000 10 1-3-0
Mansfield (2-0): Caitlin Klobosits (w, 1-0) and Jen Stein
2b – Janelle Antes HR – Nicole Yost (1), Erin Carroll (1)
RBI – Antes 5, Yost 4, Carroll 3, Kelley Pfleegor 2
Shaw (0-12): Aerial Sanders (L) and Jade Bibb
2b – Sanders RBI – Curtisha Jones