RELEASE DATE: 2/23/10
FOR IMMEDIATE RELEASE: Mansfield softball ranked fourth in the PSAC Central in preseason poll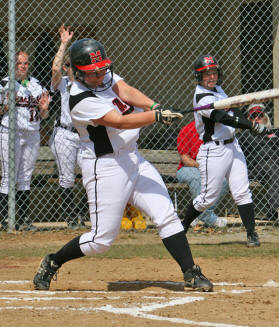 MANSFIELD – The Mansfield University softball team is predicted for finish fourth in the PSAC Central this season in voting conducted among the head softball coaches in the Pennsylvania State Athletic Conference.
Mansfield, which earned the program's first-ever PSAC playoff berth last season with a third-place showing in the PSAC Central, is picked to finish behind Bloomsburg, Lock Haven and IUP and ahead of Clarion.
Lock Haven is the defending NCAA Division II Champion while Bloomsburg earned a regional bid before ending the season with a 35-11 record.
Mansfield head coach Edith Gallagher, now in her 19th season, returns eight starters from last year's team including 1st All-PSAC Central selection Nicole Yost (Antes Fort/Jersey Shore) who ranked among the conference leaders in home runs (9) and slugging percentage (.643). Junior Melissa Baer (Cogan Station/Williamsport) led the pitching staff with 3.64 ERA and six wins last season.
Mansfield opens the 2010 season at Shaw University (NC) on Mar. 5.
2010 PSAC Preseason Softball Poll
East
1. Kutztown (3)
2. Shippensburg (2)
3. West Chester
4. East Stroudsburg
5. Millersville
Central
1. Bloomsburg (4)
2. Lock Haven (1)
3. IUP
4. Mansfield
5. Clarion
West
1. California (5)
2. Slippery Rock
3. Mercyhurst
T4. Edinboro
T4. Gannon