RELEASE DATE: 4/11/10
FOR IMMEDIATE RELEASE: Yost ties home run record to lead Mansfield to 7-6 win over Lock Haven
Click Here to Watch Youtube of Today's Games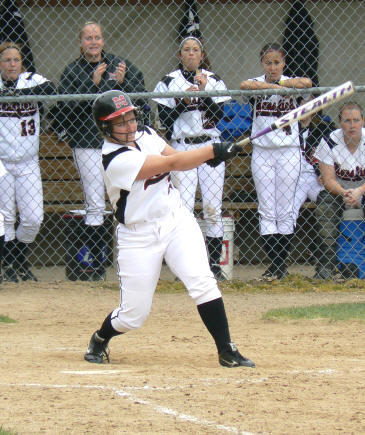 MANSFIELD – Nicole Yost tied the school career home run record with a booming three run shot and Jamie Castellano, Melissa Baer and Caitlin Klobisits combined in a gritty performance to lead Mansfield to a 7-6 win over NCAA Division II defending champion Lock Haven in the second game of a PSAC Central doubleheader at Helen Lutes Field Sunday afternoon.
In the nightcap, Mansfield scored twice in the bottom of the first on RBI singles by Jen Stein and Megan Trutt and added three more in the third when Yost blasted a three-run home run over the scoreboard in right field and off the clubhouse roof. The home run was the 18th of her career tying Jackie Laskowski (2002-2005) on the school career home run list.
Castellano, who allowed one run and struck out six over the final 3.1 innings of the opener, started on the mound in game two giving up one run on three hits in 1.2 innings before being relieved by Melissa Baer. Baer, who was removed from game one because of physical discomfort, threw a gritty 1.2 innings of one-hit ball before giving way to Klobosits in the fourth.
Lock Haven closed the gap to 5-4 with three runs in the fourth but Mansfield scored twice in the fifth on run scoring singles by Yost and Truitt. Lock Haven got two runs in the top of the sixth on solo home runs by Amanda Gutmaker and Brittany Murthard to pull to within a run of tying the game.
Lock Haven got a leadoff single in the top of the seventh and move the runner to second on a sacrifice bunt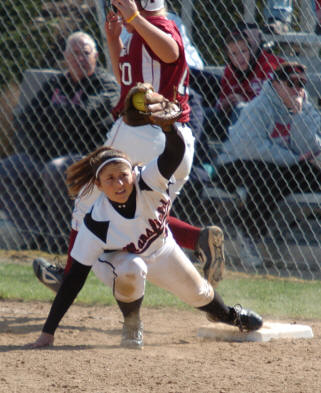 before Klobisits struck out Brittany Favazza and got Gutmaker to pop up to the infield to end the game.
Yost went 3-3, including her seventh home run of the season, and drove in four runs for Mansfield while Trutt was 3-3 with two RBI.
In the opener, Lock Haven broke open a tight 1-0 with eight runs in the fourth inning to pull away with the win. Stein drilled a three-run home run over the left field fence in the fifth inning to drive in all Mansfield's runs. Yost went 3-4 from the plate. Baer held Lock Haven to just one run and struck out two before being forced to leave the game after three innings. Gutmaker and Erin Clary each homered for Lock Haven.
Mansfield travels to Bloomsburg on Tuesday.
GAME ONE
Lock Haven 001 800 1 10-13-0
Mansfield 000 030 0 3-11-3
Lock Haven (16-14, 5-6 PSAC Central): Becca Bailey (W, 11-9) and Alicia Cacciotti
2b – Brittany Muthard, Becca Bailey, Meredith Morris, Cacciotti HR – Erin Clary (1), Amanda Gutmaker (4) RBI - Gutmaker 2, Morris 2, Clary 2, Cacciotti, Muthard, Bridgette Clarke
Mansfield (10-11, 1-8 PSAC Central): Melissa Baer (L, 5-6), Caitlin Klobisits (4), Jamie Castellano (4) and Jen Stein
2b – Gab Carrullo HR – Jen Stein (2) RBI – Stein 3
GAME TWO
Lock Haven 010 302 0 6-10-3
Mansfield 203 020 x 7-10-1
Lock Haven (16-15, 5-7 PSAC Central): Sarah Morse (L, 5-5), Becca Bailey (3) and Cacciotti
2b – Erin Clary, Bridgette Clarke HR – Amanda Gutmaker (6), Brittany Muthard (2)
RBI – Muthard 3, Gutmaker, Clarke, Brittany Favazza
Mansfield (11-11, 2-8 PSAC Central): Jamie Castellano, Melissa Baer (2), Caitlin Klobisits (4) (W, 6-5) and Jen Stein
HR – Nicole Yost (7) RBI – Yost 4, Megan Trutt 2, Stein