RELEASE DATE: 3/24/10
FOR IMMEDIATE RELEASE: Errors plague Mounties in losses at Lock Haven – Mounties winning-streak ends at nine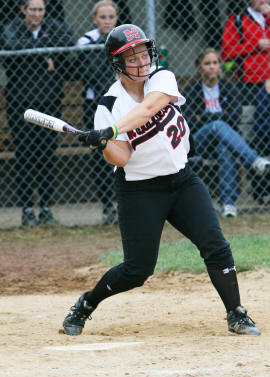 LOCK HAVEN – Six Mansfield errors led to 11 unearned runs as Mansfield dropped a PSAC Central doubleheader 9-0, 7-6 at NCAA Division II defending National Champion Lock Haven Wednesday afternoon.
In the opener Lock Haven scored seven runs, including six unearned on three Mansfield errors, in the third inning and added two more runs in the fourth. Melissa Baer suffered her first loss of the season for Mansfield while Gab Carrullo doubled. Becca Bailey picked up the win for Lock Haven allowing one hit while striking out 10.
In the nightcap, Mansfield scored three runs in the first on a RBI single by Kelly Pfleegor and two-run home run by Nicole Yost. The Mountaineers added another run in the second to take a 4-0 lead.
But Lock Haven tied the game with four unearned runs off two Mansfield errors in the fourth inning.. Mansfield retook the lead with two runs in the top of the seventh with both runs scoring on a two-out double by Carrullo.
Lock Haven scored two runs of its own with two outs in the bottom of the seventh to tie the score at 6-6, sending the game into extra innings. Mansfield failed to get a baserunner on board in the top of the eighth. Lock Haven first batter in the bottom of the inning reached on an error and stole second before scoring the winning run on a single Amanda Gutmaker.
Yost went 2-3 including her fourth home run of the season and Carrullo was 2-4 with double to lead the offense. Freshman Caitlin Klobosits went the distance to suffer her first loss of the season in six decisions. She allowed nine hits and struck out two with two earned runs. Bailey picked up her second win of the day in relief.
Mansfield, 9-2 overall and 0-2 in the PSAC Central, host No. 12 ranked Bloomsburg on Friday.
GAME ONE
Mansfield 000 00 0-1-3
Lock Haven 007 2x 9-8-0
Mansfield (9-1, 0-1 PSAC Central): Melissa Bair (L, 4-1) and Jen Stein
2b – Gab Carrullo
Lock Haven (7-9, 1-2 PSAC Central): Becca Bailey (W, 3-6) and Alicia Cacciotti
2b – Cacciotti, Erin Clary 2 RBI – Clary 4, Brittany Muthard 2, Cacciotti, Dianna McMullan
GAME TWO
Mansfield 310 000 20 6-8-3
Lock Haven 000 400 21 7-9-1
Mansfield (9-2, 0-2 PSAC Central): Caitlin Klobosits (L, 5-1) and Erin Carroll
2b – Janelle Antes, Gab Carrullo, Megan Trutt HR – Nicole Yost (4)
RBI – Yost 2, Carrullo 2, Jen Stein, Kelley Pfleegor
Lock Haven (8-9, 2-2 PSAC Central): Sarah Morse, Ariel Keidel (2), Becca Bailey (L, 4-6)
2b – Brittany Pataky RBI – Hailey Tretick 2, Amanda Gutmaker, Pataky, Bridgette Clarke, Alyssa Smith, Erin Clary