RELEASE DATE: 4/02/10
FOR IMMEDIATE RELEASE: Mansfield softball drops PSAC Central doubleheader to No. 13 IUP
Game One Box Score
Game Two Box Score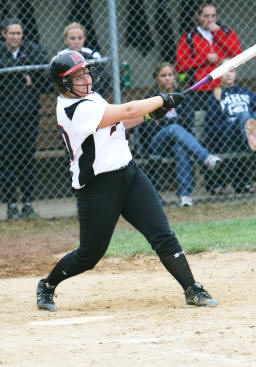 INDIANA, PA – The Mansfield University softball team drop a PSAC Central doubleheader at No. 13 ranked IUP Friday losing the first game 15-2 and the nightcap 11-2.
Mansfield managed four hits and committed three errors in the opener with Nicole Yost highlighting the offense with a double and RBI. Jen Stein also drove in a run.
In the nightcap, Mansfield had five hits and played errorless in the field. Janelle Antes drove in a run.
Mansfield will host No. 22 West Chester for an PSAC interdivisional doubleheader Saturday at Helen Lutes Field.
GAME ONE
Mansfield 101 0 0 2-4-3
IUP 050 10 x 15-12-0
Mansfield (9-6, 0-5 PSAC Central): Caitlin Klobisits (L, 5-4), Jordan Rishel (4) and Jen Stein
2b – Nicole Yost RBI – Yost, Stein
IUP (21-3, 5-0 PSAC Central): Erin Holloway (W, 14-0) and Stefanie Poates
2b – Kelsey Ferguson 3b – Marissa Leslie
RBI – Ferguson 3, Poates 2, Michelle Bivona 2, Leslie 2, Jamie Palmerio, Monica Iachini, Megan McCormick
GAME TWO
Mansfield 010 01 2-5-0
IUP 140 6x 11-11-2
Mansfield (9-7, 0-6 PSAC Central): Melissa Baer (L, 4-3) and Nicole Yost
RBI – Janelle Antes
IUP (22-3, 6-0 PSAC Central): Michelle Bivona (W, 6-2), Melissa Wilson (5) and Sam Goettman
2b – Leslie, Ferguson HR – Goettman
RBI – Goettman, Ferguson, Iachini, Megan McCormick, Kristen Tunno, Poates, Dee Eppinger