RELEASE DATE: 4/17/10
FOR IMMEDIATE RELEASE: IUP Sweeps Mansfield on Senior Day; Gab Carrullo and Jen Stein Honored in Pregame Ceremonies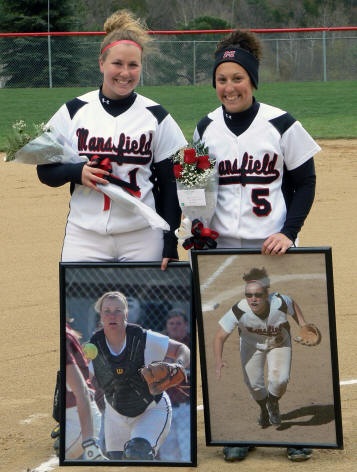 MANSFIELD – In their final games of the 2010 season, the Mountaineer softball team dropped a PSAC Central Division matchup double-header to Indiana University of Pennsylvania losing the first game 11-0 and 11-3 in the nightcap.
The pair of losses now finishes the Mountaineers' 2010 season with a record of 12-16 and 3-13 in the PSAC Central Division. With losing a pair of games to IUP, the Mountaineers also had to say farewell to a pair of instrumental seniors, Gab Carrullo and Jen Stein. Both seniors were presented with framed action posters of themselves along with flowers and presents from their friends, teammates, and family.
The only runs scored for the Mounties were from Megan Trutt's three-run home run in the bottom of the first inning of the second game. This home run also gave Mansfield their only lead of the night as the Mountaineer defense led by pitcher Melissa Baer held IUP to a two-run start in their first inning.
The second game technically had one more inning left but due to a coaches' conference, the game was called short after six and a half innings.
GAME ONE
IUP 020 81 11-11-0
Mansfield 000 00 0-2-0
Mansfield (12-15, 3-12 PSAC Central): Caitlin Klobosits (L, 7-7), Jamie Castellano (5), Klobosits (5) and Jen Stein
2b – Nicole Yost, Megan Trutt
IUP (30-8, 10-3 PSAC Central): Erin Holloway (W, 20-4) and Sam Goettman
2b – Jamie Palmerio (2), Stefanie Poates HR – Goettman RBI – Marissa Leslie, Megan McCormick, Ashley Strack, Kristen Tunno, Poates (2), Dee Eppinger, Goettman (4)
GAME TWO
IUP 204 014 0 11-11-0
Mansfield 300 000 x 0-2-0
Mansfield (12-16, 3-13 PSAC Central): Melissa Baer (L, 5-9)
2b – Janelle Antes HR – Megan Trutt RBI – Trutt (2)
IUP (30-8, 11-3 PSAC Central): Erin Holloway (W, 20-4) and Sam Goettman
2b – Megan McCormick, Dee Eppinger HR – McCormick, Kelsey Ferguson RBI – Marissa Leslie, Monica Iachini, McCormick (4), Ferguson (3), Kristen Tunno (2)