RELEASE DATE: 3/28/10
FOR IMMEDIATE RELEASE: Mansfield softball drops 3-0 decision at Edinbor0 – second game cancelled by rain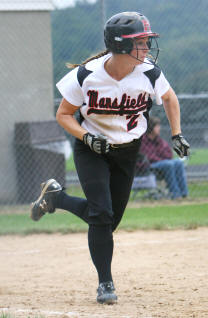 EDINBORO – The Mansfield University softball team struggled to get its offense going in a 3-0 loss at Edinboro in the first game of a scheduled doubleheader Sunday afternoon. The nightcap was cancelled by rain.
Mansfield freshman Caitlin Klobosits and Edinboro's Beth Mullins were locked in a scoreless pitching dual for the first four innings until Edinboro got two runs off wild pitches in the bottom of the fifth.
Freshman Chara Dixon led off the top of the Mansfield sixth with a single but the Mountaineers couldn't advance her any further. After Edinboro added another run in the bottom of the sixth, Mansfield's Jen Stein hit a one-out double to left in the top of the seventh but Mansfield could push the run across the plate.
Klobosits scattered six hits over 4.1 innings and struck out two before being relieved by Melissa Baer who allowed one hit over the final 1.2 innings.
Mansfield will host Clarion in its home opener this Tuesday starting at 2:30 p.m.
Mansfield 000 000 0 0-2-1
Edinboro 000 021 x 3-7-1
Mansfield (9-3): Caitlin Klobisits (L, 5-2), Melissa Baer (5) and Jen Stein
2b – Stein
Edinboro (8-9): Beth Mullins (W, 5-6) and Aimee Sisson
2b - Brittney Price RBI - Price