RELEASE DATE: 3/11/10
FOR IMMEDIATE RELEASE: Mansfield softball ties best start in school history with 8-0 win over Eastern Nazarene – Mounties improve to 9-0 on season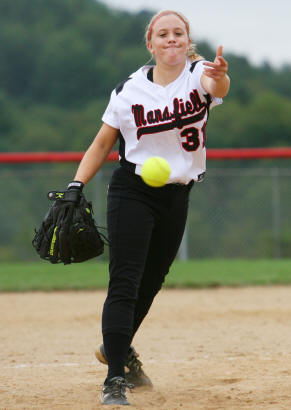 MYRTLE BEACH, SC – Freshman Caitlin Klobosits threw a one-hitter and Jen Stein drilled a two-run home run to lead Mansfield to a 8-0 win over Eastern Nazarene at the Snowbird Invitational in Myrtle Beach, SC Thursday morning.
Mansfield's second game of the day against Penn State – Harrisburg was cancelled by rain.
The win gives Mansfield a 9-0 overall record tying the 1992 team for the best start in school history.
Klobosits allowed just a leadoff single in the top of the third while striking out nine and walking one to improve to 5-0 on the season. In 28 innings this season the freshman has struck out 36 batters with a 0.50 ERA.
Mansfield led 2-0 after three innings and scored four runs in the fourth on an RBI triple by Janelle Antes and two-run home run by Jen Stein.
The Mountaineers pounded out 11 hits in the game including two by Stein, Jordan Rishel and Chara Dixon.
Mansfield, which posted a 7-0 record Myrtle Beach, will travel to Wilmington, DE to play Goldey-Beacom in a doubleheader on Saturday.
Eastern Nazarene 000 00 0-1-2
Mansfield 002 42 8-11-0
Eastern Nazarene (1-5): Hannah Moore (L. 0-4) and Laura Gibson
Mansfield (9-0): Caitlin Klobosits (W, 5-0) and Nicole Yost
3b – Janelle Antes HR – Jen Stein (1)
RBI – Stein 2, Yost, Jordan Rishel, Megan Trutt, Danielle Long