RELEASE DATE: 12/07/09
FOR IMMEDIATE RELEASE: Mansfield softball signs three in early signing period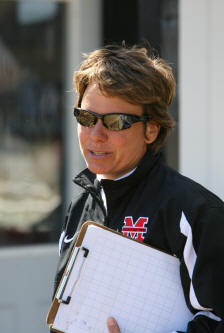 MANSFIELD – Mansfield University head softball coach Edith Gallagher has announced three players who have signed National Letters of Intent to play softball at Mansfield starting in the 2011 season. The three signed in the recently completed early signing period.
"We're pleased to have all three," said Gallagher. "They're all outstanding athletes as well as students and we expect them be become valuable members of our program."
Emily Crandell (Mifflinburg/Mifflinburg High School)
Crandell is a four year starter for the two-time PIAA District IV Champions. A pitcher, Crandell has twice been selected to 1st Team All-Susquehanna League honors and twice earned all-state recognition.
A high school honor student, Crandell will study art education at Mansfield.
Kaitlyn Harris (Endicott, NY- Maine Endwell High School)
Harris is also a four-year varsity starter and a two-time all-league selection. She helped her school win three straight New York State Section IV titles in 2006, 2007 and 2008.
A first basemen, is a two-time 1st Team All-State selection who was also a All-State field hockey player.
She is also a member of the National Honor Society.
Liz Pieniazek (Geneva, NY-Geneva HS)
A pitcher and four-year starter at Geneva High School, Pieniazek was a 1st Team All-Finger Lakes East selection and named the 2009 Finger Lakes Player of the Year.
Pieniazek is also a member of the National Honor Society and ranks among the top members of her class. She will major in graphic arts design at Mansfield.
Mansfield earned the school first-ever PSAC playoff berth last season and returns eight position starters from that playoff squad.