RELEASE DATE: 3/10/10
FOR IMMEDIATE RELEASE: Mansfield softball wins two to give head coach Edith Gallagher 300th win – Mountaineers 8-0 start best since 1992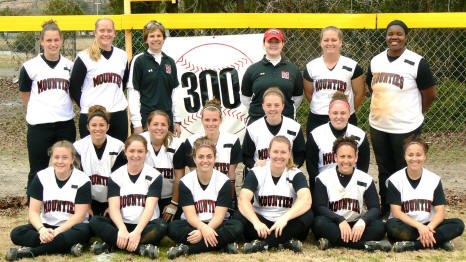 MYRTLE BEACH, SC – It was a milestone moment in Mansfield University softball history Wednesday when the Mountaineers beat Randolph College 7-1 and Averett College 8-0 at the Snowbird Invitational in Mrytle Beach, SC to give head coach Edith Gallagher her 300th career win and at 8-0, the program's best start to a season since 1992.
"I was just thinking today how much fun it's been to be associated with the players we've had over the last 19 years," said Gallagher about her 300th win. "We've have a lot of great players who have also been great people. I don't remember all the wins, but I do remember all the players and I was thinking about them today."
In the opening win over Randolph, Mansfield got a complete game four-hitter from freshman Caitlin Klobosits who struck out seven and walked just two in picking up her fourth win in four decisions on the year.
Mansfield scored twice in the first inning on a two-run double by Jen Stein (Williamsport/Williamsport) and took a 3-0 lead in the third when Gab Currullo singled to drive in a run. Megan Trutt hit her second home run of the season, a solo shot to center, in the fifth and Klobosits kept Randolph off the scoreboard until they scored an unearned run with two outs in the seventh.
Stein went 2-3 with a double and four RBI to lead the Mountaineer offense.
In the nightcap, Melissa Baer (Williamsport/Williamsport) threw a complete-game two-hit shutout against Averett to improve to 4-0 on the season. Baer allowed a single in the first and a double in the third.
Mansfield held a 2-0 lead, scoring runs on a single by Stein in the first and double by Aundraa Polk in the fourth, before ending the game with six runs in the bottom of the fifth. Jordan Rishel (Muncy/Muncy) drove in two runs with a single before Janelle Antes ended the game with a two-run double with two outs.
With the wins, Mansfield improves to 8-0 on the season – the program's best start since winning their first nine games in 1992.
Gallagher becomes the just the third coach in Mansfield athletic history to reach the 300-win milestone and the first coach female coach to do so.
Mansfield wraps up their stay in Myrtle Beach tomorrow with single games against Eastern Nazarene College and Penn State – Harrisburg.
GAME ONE
Randolph 000 000 1 1-4-2
Mansfield 201 310 x 7-8-2
Randolph (5-6): Shelbie West (L, 0-1) and Amanda Thacker
2b – Nichole Smith
Mansfield (7-0): Melissa Baer (W, 4-0) and Jen Stein
2b – Stein, Chara Dixon HR – Megan Trutt (2)
RBI – Stein 4, Gab Carrullo, Trutt
GAME TWO
Averett 000 00 0-2-1
Mansfield 100 16 8-13-1
Averett (2-8): Nicole DeFilippo (L, 2-5) and Emily Atkinson
2b – Jenna Rudder
Mansfield (8-0): Melissa Baer (W, 4-0) and Erin Carroll
2b – Aundraa Polk 2, Kelley Pfleegor 3b – Janelle Antes
RBI – Jordan Rishel 2, Janelle Antes 2, Stein, Gab Carrullo, Trutt, Polk