RELEASE DATE: 3/09/10
FOR IMMEDIATE: RELEASE: Mansfield softball improves to 6-0 on season with sweep over Mt Aloysius and SUNY-IT in Myrtle Beach – Mountaineer head coach Edith Gallagher two shy of 300 win milestone
Mt. Aloysius Box Score
SUNY-IT Box Score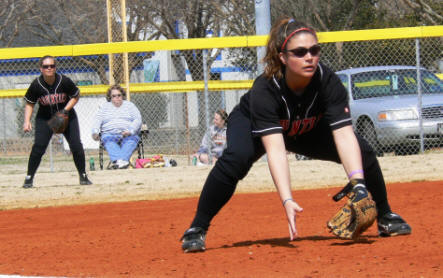 MYRTLE BEACH, SC -- Melissa Baer (Williamsport/Williamsport) threw a complete-game to earn her third win of the season in the opener and Aundraa Polk (Harrisburg/Science Tech) homered and drove in four runs in the nightcap as Mansfield beat Mt. Aloysius 4-2 and SUNY-IT 16-4 at the Snowbird Invitational in Myrtle Beach, SC Tuesday.
Mansfield improves to 6-0 on the year. It is the Mountaineers best start since winning their first seven games of the 2000 season.
The wins also give Mansfield University head coach Edith Gallagher 298 wins in her 19 seasons at the help of the Mountaineer program. She needs just two more wins to become just the third head coach to reach the 300 win milestone in Mansfield athletics history.
In the opener, Baer scattered six hits over seven innings striking out seven and walking two. Mansfield got runs in the first inning on a RBI single by Nicole Yost (Antes Fort/Jersey Shore) and in the second on a run scoring single by Janelle Antes (Elizabethville/Upper Dauphin).
Mount Aloysius got two runs in the third and had the bases-loaded before Baer stuck out the final two batters of the inning.
Mansfield scored what proved to the be the winning run in the fifth when freshman Chara Dixon (Shermans Dale/West Perry) led off with a single, stole second and advanced to third on a sac bunt by Antes. Dixon scored on a sac bunt by Kelley Pfleegor (Milton/Milton).
Antes and Gab Carrullo (Chalfont/Central Bucks South) each had two hits for Mansfield in the opener.
In the nightcap, Mansfield pounded out 19 hits to back up the pitching of freshman Caitlin Klobosits (Coplay/Whitehall) who gave up four hits over four innings with five strike outs and no walks in improving to 3-0 on the season. Mansfield score four runs in the first, three of them coming off a home run over the centerfield fence by Polk, and was never threatened in the game.
Polk went 3-4 with a home run and four RBI while Jen Stein (Williamsport/Williamsport) was 3-3 with a triple and three RBI. Pfleegor went 3-3 with an RBI while Sara Cullen (Landing,NJ/Hopatcong), Megan Trutt (Mifflinburg/Mifflinburg) and Jordan Rishel (Muncy/Muncy) each drove in two runs.
Mansfield plays Randolph College and Averett University on Wednesday.
GAME ONE
Mansfield 110 010 1 4-7-2
Mount Aloysius 002 000 0 2-6-1
Mansfield (5-0): Melissa Baer (W, 3-0) and Jen Stein
2b - Gab Carrullo RBI - Janelle Antes, Kelley Pfleegor, Nicole Yost

Mount Aloysius (2-1): Carrie Shevock (L, 1-1) and Whitney Shearer
2b - Amy Miller, Meagan Thomas RBI - Miller, Shearer
GAME TWO
Mansfield 406 60 16-19-2
SUNY-IT 001 03 4-6-2
Mansfield (6-0): Caitlin Kolbosits (W, 3-0), Jamie Castellano (5) and Chara Dixon
2b – Sara Cullen, Nicole Yost 3b – Jen Stein HR – Aundraa Polk (1)
RBI – Polk 4, Stein 3, Cullen 2, Megan Trutt 2, Jordan Rishel 2, Danielle Long, Yost, Kelley Pfleegor
SUNY- IT (1-3): Juleah Vedder (L, 0-2) and Lauren Marleau
2b – Natalie Triano HR – Meghan McGurn (1)
RBI – Triano 2,McGurn