RELEASE DATE: 3/08/10
FOR IMMEDIATE RELEASE: Yost hits two home runs in opener and Baer throws one-hit shutout in nightcap as Mansfield softball sweeps in Myrtle Beach – Mounties open season at 4-0

Gettysburg Box Score
Gordon Box Score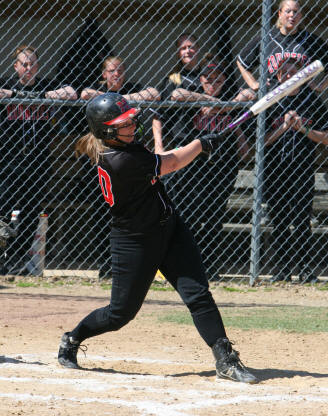 MYRTLE BEACH, SC – Nicole Yost (Antes Fort/Jersey Shore) hit two home runs in the opener and Melissa Baer (Williamsport/Williamsport) fired a one-hitter in the nightcap to lead Mansfield to a 2-1 win over Gettysburg College and 1-0 over Gordon College at the Snowbird Invitational in Myrtle Beach Monday.
In the opener against Gettysburg, Yost hit a two-out solo shot to over the centerfield fence and added another solo home run with two-outs in the fifth to break a 1-1 deadlock.
Freshman Caitlin Kolbosits (Coplay/Whitehall) overcame some wildness to scatter five hits and strikeout out seven while also issuing seven walks to improve to 2-0 on the season. Erin Carroll (Matawan,NJ/Mater Dei) went 3-3 from the plate with a double.
In the nightcap against Gordan, Baer was masterful allowing just a two-out single to Claire Bennett in the first and striking out 10 while walking just one to improve to 2-0 on the season.
Mansfield, which had six hits in the game, scored the game's only run in the fourth when Yost doubled and later scored on a sac fly by Gab Carrullo (Chalfont/Central Bucks South).
Mansfield improved to 4-0 on the season and plays Mt. Aloysius and SUNY-IT Tuesday.
GAME ONE
Gettysburg 000 100 0 1-5-0
Mansfield 100 010 x 2-7-1
Gettysburg (1-1): Lanie Parr (L, 0-1) and Sarah Woodbury
RBI – Catrina DelGais
Mansfield (3-0): Caitlin Klobosits (W, 2-0) and Erin Carroll
2b – Erin Carroll HR – Nicole Yost 2 (3)
RBI – Yost 2
GAME TWO
Gordon 000 000 0 0-1-1
Mansfield 000 100 x 1-6-0
Gordon (0-1): Claire Bennett (L, 0-1) and Courtney Stevenson

Mansfield (4-0): Melissa Baer (W, 2-0) and Jen Stein
2b – Gab Carrullo, Nicole Yost RBI – Carrullo