RELEASE DATE: 4/16/10
FOR IMMEDIATE RELEASE: Mansfield softball splits with Clarion
Game One Box Score
Game Two Box Score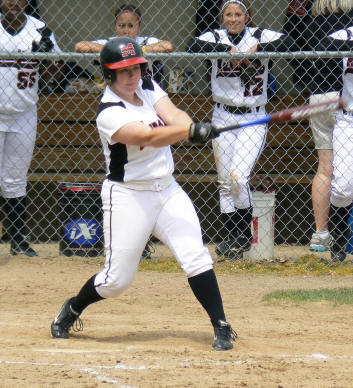 CLARION – Jen Stein doubled and drove in two runs to lead Mansfield to a 5-4 win over Clarion in the nightcap of a PSAC Central doubleheader Friday afternoon. Clarion won the opener 6-1.
In the nightcap, Mansfield got all five of its runs in the third inning with Stein's two-run double the big blow. Megan Trutt also hit a run scoring triple in the same inning.
Clarion scored twice in the bottom of the fifth to close the gap to 5-2 and added two more in the bottom of the seventh and had two runners on with two outs when Jamie Castellano, who came in relief of starter Caitlin Klobisits in the fifth, got the final batter to ground out on a fielder's choice to end the game.
Rachelle Yarger went 3-3 for Clarion.
In the opener, Clarions Erica Burkey shut down the Mountaineer offense with six hits in going the distance. Gab Carrullo went 2-3 to lead Mansfield.
Mansfield (12-14, 3-9 PSAC Central) will end the season Saturday when the Mountaineers host IUP. Seniors Gab Carrullo and Nicole Yost will be honored in pregame ceremonies.
GAME ONE
Mansfield 000 000 1 1-6-2
Clarion 004 200 x 6-7-0
Mansfield (11-14, 2-9 PSAC Central): Melissa Baer (L, 5-8), Caitlin Klobosits (3) and Jen Stein
RBI – Stein
Clarion (4-28, 2-11 PSAC Central): Megan Daley (W) and Marissa Myers
2b – Kacie Nemeth, Nicole Lollo
GAME TWO
Mansfield 005 000 0 5-5-2
Clarion 000 020 2 4-5-2
Mansfield (12-14, 3-9 PSAC Central): Caitlin Klobosits (w, 7-6), Jamie Castellano (5) (s-1)
2b – Jen Stein 3b – Megan Trutt RBI – Stein 2, Nicole Yost, Trutt, Kelley Pfleegor
Clarion (4-29, 2-12 PSAC Central): Erica Burkey (L) and Marissa Myers
2b – Rebecca Lynch, Kacie Memeth, Nicole Lollo, Rebecca Lynch
RBI – Falicia Whtmer 2, Rachelle Yarger 2, Nemeth