RELEASE DATE: 4/07/10
FOR IMMEDIATE RELEASE: Mansfield softball snaps 10-game slid with 16-8 win in nightcap against Clarion
Game One Box Score
Game Two Box Score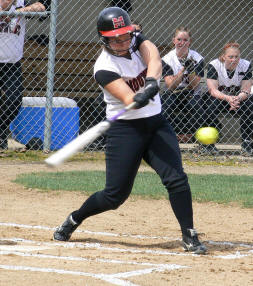 MANSFIELD – Nicole Yost doubled twice and drove in four runs to help Mansfield beat Clarion 16-8 in the second game of a PSAC Central doubleheader at Helen Lutes Field Wednesday afternoon. Clarion rallied to win the opener 7-6.
In the nightcap, Mansfield to two runs in the bottom of the first when Janelle Antes led off with a double to right and scored on a double by Yost and Aundraa Polk singled in another run.
Mansfield added six more runs in the second with six different players driving in a run each. Clarion closed to 10-8 in the fifth but Mansfield got six runs, three on a double by Yost and two more on a double by Melissa Bair, to end the game on the eight-run run.
Baer, who was the starter in the opener, got the win in relief allowing three hits in 3.1 innings with no earned runs and striking out three.
Every Mansfield starter had a hit in game two with Antes, Gab Carrullo, Yost, Jen Stein, Polk, Megan Trutt, Kelley Pfleegor and Jordan Rishel each having two hits.
In the opener, Mansfield rapped out five hits in the bottom of the first including a three-run home run by Aundraa Polk. Mansfield added another run in the fourth when Chara Dixon led off with a double and later scored on Yost's sac fly to take a 4-1.
Clarion chipped away, scoring a run in the fifth and five more in the six to take a 7-4 lead. In the bottom of the seventh Mansfield scored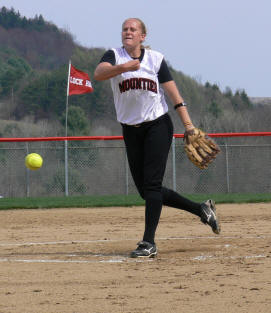 twice and had runner on second and third with but couldn't plate the tying run.
Mansfield stranded 10 runner and the pitching staff issued nine Clarion walks in the loss. Stein went 3-3 while Polk was 2-3 with a home run and three RBI. Dixon went 2-4 with two RBI.
Clarion's Megan Daley went the distance for her second win of the season.
The win in the second game snaps a 10-game losing streak for the Mountaineer who evened their record at 10-10 on the season.
Mansfield host Lock Haven in a doubleheader at noon this Sunday at Helen Lutes Field.
GAME ONE
Clarion 010 015 0 7-8-1
Mansfield 300 100 2 6-13-1
Clarion (3-19, 1-6 PSAC Central): Megan Daley (W, 2-9) and Marissa Myers
2b – Charlie Cook HR – Rachelle Yarger (1)
RBI – Yarger 3, Katie Baun, Nicole Lollo, Kacie Nemeth
Mansfield (9-10, 0-7 PSAC Central): Melissa Baer, Caitlin Klobosits (3) (L, 5-5), Jamie Castellano (5) and Jen Stein, Chara Dixon (4)
2b – Dixon HR – Aundraa Polk (2)
RBI – Polk 3, Dixon 3, Nicole Yost
GAME TWO
Clarion 104 120 8-11-0
Mansfield 261 106 16-17-3
Clarion (3-20, 1-7 PSAC Central): Erica Burkey (L, 1-9), Megan Daley (2) and Marissa Myers
2b – Nicole Lindner, Carlie Cook, Rachelle Yarger RBI – Cooke 3, Marissa Myers 2, Rebecca Lynch, Falicia Witmer, Yarger
Mansfield (10-10, 1-7 PSAC Central): Caitlin Klobosits, Jamie Castellano (3), Melissa Baer (3) (W, 5-5) and Nicole Yost
2b – Yost 2, Janelle Antes, Megan Trutt, Kelley Pfleegor, Melissa Baer
RBI – Yost 4, Baer 2, Jordan Rishel 2, Pfleegor 2, Aundraa Polk 2, Jen Stein 2 Trutt, Gab Carrullo