RELEASE DATE: 4/13/10
FOR IMMEDIATE RELEASE: Mountie softball drops doubleheader to No. 6 Bloomsburg
Game One Box Score
Game Two Box Score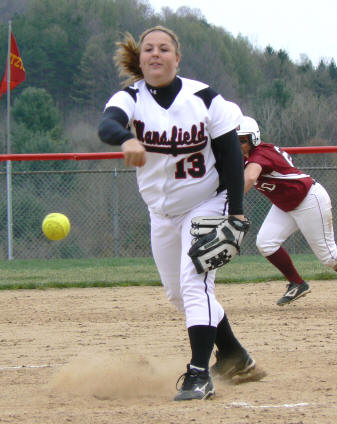 BLOOMSBURG – Mansfield struggled to find its offense in dropping a PSAC Central doubleheader at No. 6 ranked Bloomsburg Tuesday afternoon. The Mountaineers lost the open 12-0 in five innings and the nightcap 8-0.
In the opener, Bloomsburg scored seven runs in the second inning with the big blow coming on a three -run triple by Nikki Shiko and added five more runs in the third. Mansfield was limited to two hits by Bloomsburg starter Shavaun Fisher -- a single by Kelley Pfleegor in the second and leadoff single by Jordan Rishel in the fifth.
Freshman Caitlin Klobosits, who retired the side in order in the first inning, took the loss to fall to 6-6 on the season. Jaimie Castellano came in relief in the fourth.
In the nightcap Mansfield starter Melissa Baer and Bloomsburg's Cait Paine were locked in a pitching dual with Bloomsburg holding a 1-0 lead off three innings. But in the fourth, Bloomsburg exploded for seven runs, four of them off a grand slam by Emily Young.
Janelle Antes, Gab Currullo, Jen Stein and Nicole Yost each had singles for Mansfield.
The Mountaineers fall to 13-13 overall and 2-10 in conference play while Bloomsburg remains undefeated in the PSAC Central at 14-0 and are 37-3 overall.
Mansfield travels to Clarion on Friday before ending the 2010 season at home against IUP on Saturday.
GAME ONE
Mansfield 000 00 0-2-1
Bloomsburg 075 0x 12-10-1
Mansfield (11-12, 2-9 PSAC Central): Caitlin Klobisits (L, 6-6), Jamie Castellano (4) and Chara Dixon
Bloomsburg (36-3, 13-0 PSAC Central): Shavaun Fisher (W, 22-3) and Lacy Mauro
2b – Jenna Hampton 3b – Nikki Shiko, Lacy Mauro
RBI – Shiko 4, Danielle Lazorka 2, Hampton 2, Lori Neyhard Casey Massimini
GAME TWO
Mansfield 000 00 0-4-2
Bloomsburg 001 7x 8-12-0
Mansfield (11-13, 2-10 PSAC Central): Melissa Baer (L, 5-7) and Chara Dixon
Bloomsburg (37-3, 14-0 PSAC Central): Cait Paine (W, 15-0) and Sam Pientack
2b - Mandy Koch HR - Emily Young
RBI – Young 4, Danielle Lazorka, Lacy Mauro, Sam Pientack