RELEASE DATE: 3/31/10
FOR IMMEDIATE RELEASE: Softball drops doubleheader to No. 9 ranked Bloom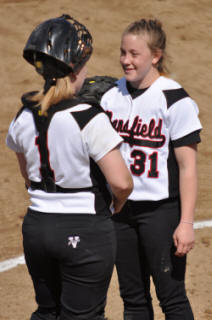 MANSFIELD – Junior Nicole Yost smashed a home run in both games but Mansfield dropped a PSAC Central doubleheader to the Huskies 6-3, 9-1 in the Mountaineers home opener at Helen Lutes Field Wednesday afternoon.
In the opener, Bloomsburg took a 6-0 lead after 5 ½ innings before the Mountaineers jumped on the board with three runs including a two-run home run by Yost to cut the lead to 6-3.
Freshman Caitlin Klobosits went 5.2 innings to take the loss striking out two and walking five. Jamie Castellano threw a perfect 1.1 innings of relief.
In the nightcap, Bloomsburg took a 2-0 led in the third and extended its lead to 9-0 with five runs in the top of the sixth before Mansfield's Yost hit her sixth home run of the season to spoil the shutout bid by Bloomsburg's Cait Paine.
Bloomsburg improves to 25-3 overall and 6-0 in PSAC Central play. Mansfield falls to 0-4 in conference play and 9-5 overall.
Mansfield will travel to IUP on Friday before hosting West Chester on Saturday.
GAME ONE
Bloomsburg 210 003 0 6-9-2
Mansfield 000 003 x 3-6-3
Bloomsburg (24-3, 5-0 PSAC Central): Shavaun Fisher (W, 13-3) and Lacy Mauro
2b – Danielle Lazorka, Lacy Mauro, Sam Pientack RBI – Lazorka 2,Pientack 2,Emily Young
Mansfield (9-4, 0-3 PSAC Central): Caitlin Klobosits (L, 5-3), Jamie Castellano (6) and Jen Stein
2b – Janelle Antes, Jen Stein HR – Nicole Yost (5)
RBI – Yost 2
GAME TWO
Bloomsburg 002 025 9-12-1
Mansfield 000 001 1-5-3
Bloomsburg (25-3, 6-0 PSAC Central): Cait Paine (W, 12-0) and Sam Pientack
2b – Lacy Mauro, Jenna Hampton RBI – Mauro 2, Peintack 3, Shen DeBaro 2, Mandy Leach, Casey Massimini
Mansfield (9-5, 0-4 PSAC Central): Melissa Baer (L, 4-2) and Nicole Yost
HR – Yost (6) RBI – Yost 2