RELEASE DATE: 3/16/10
FOR IMMEDIATE RELEASE: Caitlin Klobosits named PSAC Central Pitcher of the Week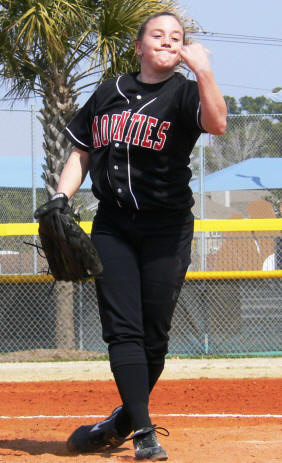 MANSFIELD – Mansfield University freshman Caitlin Klobosits (Coplay/Whitehall) has been named the PSAC Central Pitcher of the Week for her outstanding performance at the Snowbird Invitational in Myrtle Beach, SC last week.
Klobosits helped Mansfield extend its season-opening win streak to a school-record tying 9-0 by going 4-0 on the mound in a 7-0 week for the Mountaineers.
The freshman lefty allowed just two earned runs in 23.0 innings for a 0.61 ERA. Three of her wins came on complete games including a shutout. She struck out 28 batters over 23.0 innings worked with 10 walks while scattering 14 hits.
Klobosits threw a one-hitter in a five-inning 8-0 win over Eastern Nazarene striking out nine and walking one to improve her record to 5-0 on the season with a 0.50 ERA.