RELEASE DATE: 3/03/09
FOR IMMEDIATE RELEASE: Mounties sweep softball open – senior Katie McConville hits two home runs in nightcap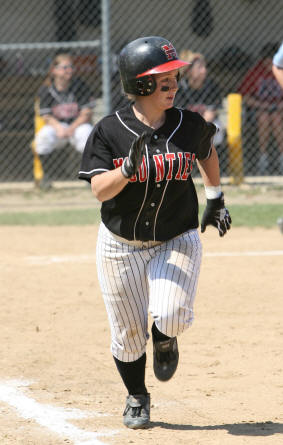 MYRTLE BEACH, SC – Mansfield scored twice in the top of the seventh to rally for a 5-4 win over Concordia (MI) in the opener and Katie McConville hit two home runs in a 2-0 win over Mt. Aloysis in the nightcap as the Mountaineers swept their 2009 season opener at the Fastpitch Classic in Myrtle Beach Tuesday.
It was sweet day for the Mountaineers despite the below freezing temperatures for the early morning game after their first five games of the year were washed out by a fierce story in North Carolina.
In the opener, Mansfield trailed 4-2 after five before closing the gap to 4-3 with a run in the sixth and got two more runs with two outs to take the lead in the top of the seventh.
Freshman Kami Bishop came in relief of starter Melissa Baer in the fifth and struck out the last six batters to earn her first collegiate win.
Janelle Antes led the offense going 2-4 with a double and two rbi's.
In the nightcap, McConville hit solo home runs in the fourth and the six innings and Bishop threw a complete-game shutout to pick up her second win of the day striking out seven and scattering four hits.
Mansfield plays twice tomorrow in Myrtle Beach before playing five games at the Francis Marion Classic this weekend.
Game 1
Mansfield 000 201 2 5-6-0
Concordia 100 210 0 4-5-0
Mansfield (1-0): Melissa Baer, Kami Bishop (5) (W, 1-0) and Jen Stein, Erin Carroll (5)
2b – Janelle Antes RBI – Antes 2, Carroll
Concordia (0-1): Jani Bollenbacher, Cat Herriman (6), (L, 0-1) and Danielle Guss
2b – Alexis Staeb RBI Staeb 2, Bollenbacher
Game 2
Mansfield 000 101 0 2-5-0
Mt. Aloysius 000 000 0 0-4-1
Mansfield (2-0): Kami Bishop (W, 2-0) and Carroll
HR – Katie McConville 2 RBI – Katie McConville 2
Mt. Aloysius (0-2): Andrea Lingle (L, 0-1) and Whitney Giedroc