RELEASE DATE: 4/24/09
FOR IMMEDIATE RELEASE: Mounties drop heart-breaker in extra innings before bowing out of PSAC Championship
Game One Boxscore
Game Two Boxscore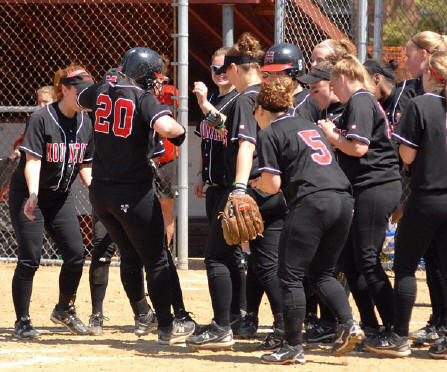 KUTZTOWN – Freshman Kami Bishop went all nine innings in the opener and Nicole Yost hit her record-tying ninth home run of the season but Edinboro rallied with two runs in the seventh to tie the game before winning with a run in the ninth inning in a 4-3 win over Mansfield in the opening game of the PSAC Softball Championship at Kutztown University Friday afternoon.
Edinboro beat Mansfield again 9-1 in the loser's bracket to eliminate the Mountaineers from the tournament.
Despite the losses, it was a history making day for the Mountaineer women who were making the program's first PSAC playoff appearance in 30 years.
In the opener, Bishop overcame jitters and escaped a first-inning jam unscathed before Edinboro got a run in the top of the second on a solo home run by Jade Thrower.
Mansfield answered right back with sophomore Nicole Yost blasting a two-run home run in the bottom of the third. The Mountaineer increased the lead to 3-1 in the fourth on an RBI single by senior Katie McConville.
It looked as if Mansfield had the game under control needing just three outs in the seventh to pick up the victory. Bishop got the first batter she faced to foul out but Brittany Price hit a double down the left field line and Jen Sparachane followed with a home run down the right field line to tie the score.
Yost walked to lead off the bottom of the eighth for Mansfield and advanced to second on a sac bunt by Jen Stein. With two outs, Gabby Carrullo was hit by a pitch and Yost was awarded third because of an illegal pitch. But Edinboro pitcher Beth Mullins struck out Ashley Gaisser to end the threat.
Yost home run ties Jackie Laskowski's record of nine set in 2003.
Bishop retired the first two batters in the ninth before Katelyn Gurgiolo singled and stole second and Dana Webb singled in what proved to be the winning run.
Mullins retired the side in order in the both of the ninth to record the win.
Mansfield never got untracked in the elimination game giving up two runs in the first and seven in the third. Janelle Antes doubled to lead off the fourth and later scored on a sac fly by Yost for Mansfield only run of the game.
GAME ONE
Edinboro 010 000 201 4-9-1
Mansfield 002 100 000 3-5-1
Edinboro (25-14): Beth Mullins (W, 12-9) and Aimee Sisson
2b – Brittney Price, Krista Bradley HR – Jen Sparachane, Jade Thrower
RBI – Sparachane 2, Thrower, Dana Webb
Mansfield (14-19): Kami Bishop (8-10) and Jen Stein
HR – Nicole Yost (9) RBI – Yost 2, Katie McConville
GAME TWO
Mansfield 000 10 1-3-0
Edinboro 207 0x 9-12-0

Mansfield (14-20): Melissa Baer (L. 6-9), Kami Bishop (3) and Erin Carroll
2b – Janelle Antes RBI – Nicole Yost
Edinboro (26-18): Beth Mullins (W, 13-10) and Aimee Sisson
2b – Lauren Smith HR – Dana Webb, Sisson RBI – Webb 2, Sisson 2, Krista Bradley 2, Carrie Hall, Jade Thrower, Brittney Price