Mansfield University
2009 Softball Outlook
FOR IMMEDIATE RELEASE: Softball opens 2009 season at Catawba Invitational -- Young Mounties expect to improve as the season progresses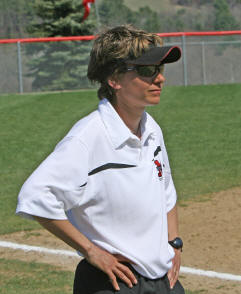 MANSFIELD -- The Mansfield University softball team will open the 2009 season on Friday, February 27th when they travel to Catawba College in Salisbury, NC for the Catawba College Invitational.
This young squad is aggressive, and looking to drastically improve upon the 2008 record of 13-20. The goal of making playoffs is in the eager eyes of the Red and Black as they prepare to begin the 2009 season.
After graduating a large, seven-member senior class in 2008, including three pitchers, the Mansfield softball team is young, but talented in 2009.
Although the Mountaineers feature six newcomers, the biggest change this season has been in the realignment of the Pennsylvania State Athletic Conference into a three-division format. Mansfield, which had competed in the PSAC East since its inception, will move to the newly formed PSAC Central with Lock Haven, Bloomsburg, Clarion and IUP.
Lock Haven is ranked #1 in the nation in the NFCA NCAA Division II national preseason poll with Bloomsburg ranked #15.
East Stroudsburg, Kutztown, Millersville, Shippensburg and West Chester comprise the PSAC East while California, Edinboro, Gannon, Mercyhurst and Slippery Rock make up the PSAC West.
Head Coach Edith Gallagher is entering her 18th season at the helm of the Mountaineer program and has been pleased with the team progress in the preseason.
"I am impressed by our team's work ethic and mindset going into the season," said Gallagher. "We will continue to improve as the season progresses and we gain experience."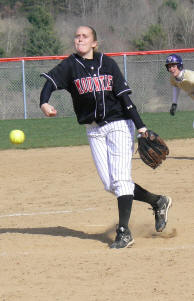 Pitchers -- Despite throwing behind three senior pitchers in 2008, sophomore Melissa Baer (Williamsport/Williamsport) is coming off of a 3-0 record with 13 appearances last year. She will be looked upon to establish herself as a leader for the pitching staff.
"Melissa worked extremely hard this off-season and I expect great things out of her in 2009," expressed Gallagher. "She is a very composed pitcher who I believe will turn some heads in the PSAC this season."
The young freshman duo of Kami Bishop (Port Royal/Juniata) and Jamie Castellano (Hauppauge,NY/Hauppauge) will certainly earn time on the mound this spring. After a promising showing in the fall, the left-handed Bishop will be called on to assist Baer in the starting role.
"Kami is a tremendous student of the game and has really come a long way this year," said Gallagher. "In each game she pitched this past fall she improved and learned quickly what it takes to be successful at this level."
Castellano and junior Gabriella Carrullo (Chalfont/Central Bucks South) will also see some innings, mostly in relief, as they round out the 2009 pitching staff. There is optimism around the pitching circle as Assistant coach Angie Stackhouse continues to oversee the Mounties' hurlers. In just her first season with the program, Stackhouse was instrumental in improving the 2007 team ERA from 4.99 to a 3.40 ERA in 2008. Further improvements are expected out of the young staff this spring.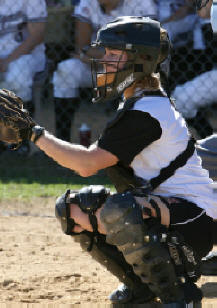 Catcher- The Mounties are deep behind the plate as two-year starter Jen Stein (Williamsport/Williamsport) returns to action. Sophomore co-captain Nicole Yost (Antes Fort/Jersey Shore), who played solely in the outfield as a rookie, will be taking on additional duties behind the plate.
Stein and Yost will be joined by freshman Erin Carroll (Matawan,NJ/Mater Dei) who brings great blocking skills to the position. This trio combines for a strong defensive showing behind the plate as well as significant threats on offense.
"We put a tremendous responsibility on our catchers to handle our pitching staff and to provide leadership for our defense," said Gallagher.
First Base - Yet another deep position, the Mounties currently have three options vying for a starting role at first. Junior Ashley Gaisser (Brockport,NY/Brockport) will look to continue to earn time as she is joined by freshman Castellano and Aundraa Polk (Harrisburg/Science Tech). This entire group provides solid defense and will compete for the starting role, which could be determined by their offensive production.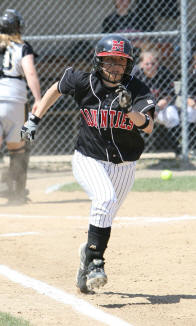 Second Base - This position will be led by returning starter sophomore Janelle Antes (Elizabethville/Upper Dauphin). Antes started in thirty-two games as a middle infielder in 2008 where she batted .271 with two home runs. She will be counted on to provide leadership on the infield.
"Janelle is a solid all-around athlete who will anchor our infield defense and we will also count on her speed and athleticism to lead-off the offense," said Gallagher on second base.
Behind Antes, the duo of Pitcher/Utility players, Carrullo and Castellano will look to see time. Carrullo, a disciplined hitter, will also work toward the designated hitter position.
Shortstop- After earning the starting role of center field as a freshman, Megan Trutt (Mifflinburg/Mifflinburg) will return to her natural position of short stop in 2009. Trutt, who hit .300 with two home runs, provides great range at this key position and will be looked upon to produce offensively.
"After returning to the infield this fall, Megan showed great promise and adapted quickly to short stop," said Gallagher. "She provides a strong arm and great range which will solidify the defense."
Freshman Jordan Rishel (Muncy/Muncy) will also look for time at short stop as she is joining us this spring from the Mansfield hockey team. Rishel has a strong arm and brings a lot of hustle to the position.
Third Base - While Carroll is a threat behind the plate, she will be providing competition to experienced sophomore Sarah Cullen (Landing,NJ/Hopatcong) at third base. Rookie Jen Swarr (Mount Joy/Donegal) will also be in the mix to earn time at this deep position for the Red and Black. This trio provides a combination of strong arms, quick feet and fearlessness to the hot corner. Much like the other corner, the offensive production of these players may indicate who will earn the starting role.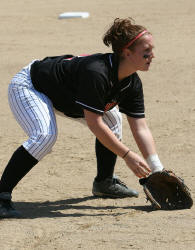 Outfield - The outfield will only return sophomore co-captain Nicole Yost (Antes Fort/Jersey Shore) as a starter from 2008. Yost is the leading returner in batting average as she posted a .341 average as a rookie. She is a threat as both a power hitter and someone who can hit for average.
Senior co-captain Katie McConville (Lake Ariel/Western Wayne) will be refocusing her talents to the outfield as she moves into a new position for 2009. Swarr, Rishel and Danielle Kiernan will round out the remainder of the outfield staff. Although the outfield is young in their experience, both co-captains will provide a solid anchor of knowledge, depth and natural leadership to the position.
"Katie is one of the greatest leaders and communicators we have ever had in the program. We are challenging her to lead a young, but dynamic team. I know she will be great," said Gallagher.