RELEASE DATE: 4/9/09
FOR IMMEDIATE RELEASE: Mounties drop doubleheader at #5 Lock Haven
Game One Boxscore
Game Two Boxscore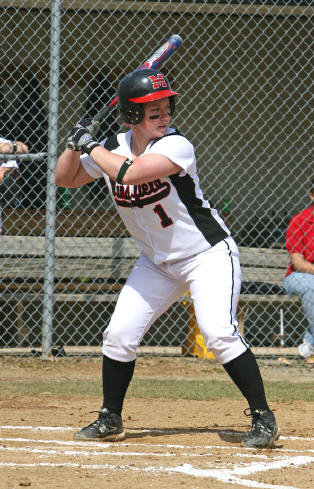 LOCK HAVEN – Lock Haven rallied for five runs in the bottom of the sixth to pull out a 6-2 win in the opener of a PSAC Central doubleheader with Mansfield Thursday afternoon. Lock Haven also won the nightcap 12-1.
Mansfield's Melissa Baer gave another gritty performance and had an exceptional outing in the opener scattering three hits and striking out two before leading with a 2-1 lead in the top of bottom of the sixth. Mansfield scored both of its runs with two outs in the third inning when Nicole Yost doubled and later scored along with Megan Trutt on an infield error.
Lock Haven scored five runs in the bottom of the sixth to rally for the win keyed by back-to-back home runs from Amanda Gutmaker and Brittany Muthard.
Kristen Erb went the distance to pick up the win for Lock Haven allowing four hits and striking out 10.
Yost went 2-3 with a double for the Mountaineers.
In the nightcap, Mansfield scored the game's first run in the top of the first with two outs when Yost singled and was doubled in by Jen Stein.
But Lock Haven got two runs of its own in the bottom of the inning and added five runs in the second and third innings to put the game out of reach.
Kami Bishop went the first two innings for Mansfield before being relieved by Baer.
Mansfield, which played #19 Bloomsburg in a doubleheader yesterday, will host Bloomsburg Saturday for Senior Day.
GAME ONE
Mansfield 002 000 0 2-4-1
Lock Haven 000 015 x 6-8-2

Mansfield (11-14, 3-6 PSA Central): Melissa Baer, Kami Bishop (6) (L, 7-7) and Jen Stein
2b – Nicole Yost
Lock Haven (31-5, 8-1 PSAC Central): Kristin Erb (W, 30-4) and Amanda Roosa
2b – Illia Lopez, Sarah Norris HR – Amanda Gutmaker, Brittany Muthard
RBI – Gutmaker 2, Eisenbise, Muthard
GAME TWO
Mansfield 100 00 1-4-2
Lock Haven 255 0x 12-11-0
Mansfield (11-15, 3-7 PSAC Central): Kami Bishop (L, 7-8), Melissa Baer (3) and Erin Carroll
2b – Jen Stein RBI – Stein
Lock Haven (32-5, 9-1 PSAC Central): Kristin Erb (W, 31-4), Jen Popovich (4) and Roosa
HR – Sarah Norris, Amanda Roosa, Brittany Muthard, Nancy O'Connor
RBI – Roosa 5, Norris 2, Muthard 2, Illia Olpez, Erb, O'Connor