RELEASE DATE: 3/24/09
FOR IMMEDIATE RELEASE: Mansfield Melissa Baer loses pitching dual with Kristin Erb in 2-1 loss to nationally ranked Lock Haven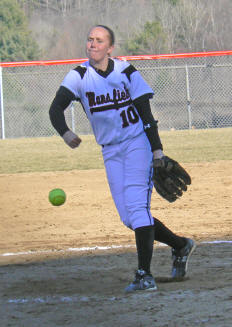 MANSFIELD – Mansfield's Melissa Baer was edged out in a pitching dual by Lock Haven's All-American Kristen Erb 2-1 in the nightcap of a PSAC Central doubleheader at Helen Lutes Field Monday afternoon.
Lock Haven (17-4, 3-0) won the opener 9-0 on a perfect game by Erb.
In the nightcap, Mansfield scored the game's first run in the bottom of the first inning when Janelle Antes led off with a double to right field. Antes advanced to third on a wild pitch and scored on an RBI groundout by Megan Trutt when she hit to the second baseman.
Baer kept Lock Haven off the board until the fourth inning scoring a run off an error with two outs to tie the game at 1-1.
Lock Haven scored the winning run in the top of the fifth when Lopez singled and later scored on a two-out single by Amanda Roosa.
Mansfield falls to 6-10 overall and 0-2 in the PSAC Central and will travel to Clarion on Friday for a doubleheader.
GAME ONE
Lock Haven 010 026 9-11-0
Mansfield 000 000 0-0-2
Lock Haven (16-4, 2-0): Kristen Erb (W, 14-3) and Amanda Roosa
2b -- Roosa, Erb, Erica Eisenbise 2 RBI - Roosa 2, Popovich, Ilia Lopez, Erb, Eisenbise, Brittany Muthard, Nancy O'Connor
Mansfield (6-9, 0-1): Kami Bishop (L, 5-5), Jamie Castellano (6) and Erin Carroll
GAME TWO
Lock Haven 000 110 0 2-6-1
Mansfield 100 000 0 1-1-2

Lock Haven (17-4, 3-0): Erb (W, 15-3) and Roosa
2b – Brittany Muthard RBI – Roosa
Mansfield (6-10, 0-2): Melissa Baer (L, 1-4) and Jen Stein
2b – Janelle Antes RBI – Megan Trutt