RELEASE DATE: 4/16/09
FOR IMMEDIATE RELEASE: MAKING HISTORY -- Softball could clinch first-ever PSAC playoff berth with sweep over IUP Friday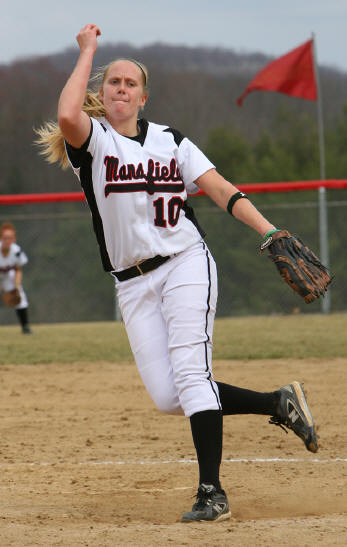 MANSFIELD Ė A young Mansfield University softball team, that has shown steady improvement over the course of the season, could become the first team in school history to earn a berth in the upcoming PSAC playoffs with a sweep over IUP Friday afternoon.
First pitch is set for 2:30 p.m. at Helen Lutes Field.
The Mountaineers, featuring just one senior on the roster, will earn a PSAC playoff berth outright with two wins over IUP. Mansfield (5-9 PSAC Central) has just the IUP doubleheader remaining on the regular season schedule while IUP (3-9 PSAC Central) has doubleheaders remaining with Mansfield and Clarion (0-12 PSAC Central) on Friday and Saturday.
Lock Haven, ranked #3 in the latest NCAA Division II national poll, and Bloomsburg, ranked #16 in the same national poll, have already earned playoff berths from the PSAC Central.
Despite being in a division with two of the best teams in the nation and being swept by both, Mansfield has been one of the surprise teams of the conference this season. Few gave the Mountaineers and their 11 underclassmen much consideration during the preseason polls, but a dramatic improvement in pitching and power has Mansfield knocking on the playoff door.
Mansfield, which has won three ECAC titles in the past, benefited this season from the divisional realignment for softball in the PSAC from a two division set up to three five-team divisions. The top three teams from each division advance to the playoffs and Mansfield and IUP are vying for the #3 seed from the PSAC Central.
Mansfield and IUP split an earlier season doubleheader at IUP with IUP winning the first game 2-1 and Mansfield taking the nightcap 3-2.
The Mountaineers have gotten gritty pitching performances from sophomore Melissa Baer and freshman Kami Bishop this season. Baer is 5-7 on the year with a team-best 2.92 ERA and 66 strikeouts in 96.0 innings. Bishop is 8-9 so far in her freshman season with a 4.26 ERA and 69 strikeouts in 87.0 innings worked.
While Mansfield hasnít been overly productive at the plate as far as team batting average is concerned, the Mountaineers have shown impressive power especially at Helen Lutes Field. Of the teamís 22 home runs this season, they have hit five in just eight games at Lutes Field.
Junior Jen Stein tops the team in hitting with a .296 average and three home runs. Sophomore Nicole Yost is second with a .292 averaging and a team-high seven home runs.