RELEASE DATE: 3/31/09
FOR IMMEDIATE RELEASE: Sarah Cullen's homer difference in 3-2 win over IUP
Game One Boxscore
Game Two Boxscore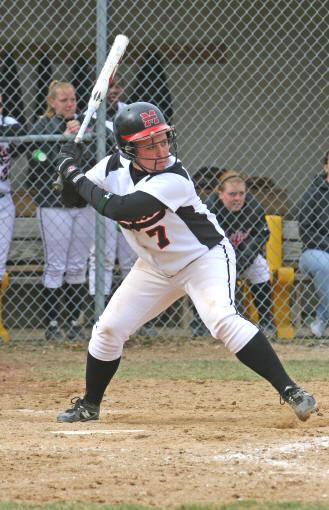 INDIANA, PA – Sarah Cullen's solo home run in the top of the fourth inning proved to be the difference as Mansfield beat IUP 3-2 in the second game of a PSAC Central doubleheader at IUP Tuesday afternoon. Mansfield dropped the opener 2-1.
In the nightcap, Mansfield scored a run in the top of the first on a RBI single by freshman Erin Carroll. IUP tied the score with a run of its own in the bottom of the inning before Nicole Yost led off the third inning with a solo home run over the centerfield fence.
Mansfield increased its lead to 3-1 on Cullen's third home run of the season in the fourth. Melissa Baer, who was the loser in a nail bitter in the opener, pitched her way out of a bases-loaded jam with no outs in the seventh. Baer got the first out on a strikeout before Sam Goettman singled in a run. But Jennifer Swarr threw out the would be tying run on the play from right field and Baer struck out the final batter to preserve the win.
Baer was credited with the save after coming in relief of starter Kami Bishop who gave up just three hits and struck out five over the first six innings to pick up her seventh win of the season. Carroll had two of Mansfield's six hits in the game.
In the opener, Baer and IUP's Erin Holloway squared off in a pitching dual. Baer went the distance scattering four hits and striking out three. Holloway also allowed four hits but struck out 16 of the 25 batters she faced.
IUP scored the game's first run in the bottom of the second and Mansfield tied the game in the game when Janelle Antes led off the inning with a double and later scored on a wild pitch. Antes went 2-3 with two doubles and Jen Stein also added a double for Mansfield.
Mansfield has won five of its last six games and travels to Shippensburg this Saturday.
GAME ONE
Mansfield 000 100 0 1-4-1
IUP 010 010 x 2-4-0
Mansfield (10-11, 2-3 PSAC Central): Melissa Baer (L, 4-5) and Jen Stein
2b – Janelle Antes 2
IUP (14-9, 1-2 PSAC Central): Erin Holloway (W, 9-5) and Sam Goettman
HR – Kelsey Ferguson (3) RBI --Goettman, Ferguson
GAME TWO
Mansfield 101 100 0 3-6-2
IUP 100 000 1 2-6-1

Mansfield (11-11, 3-3 PSAC Central): Kami Bishop (W, 7-5), Baer (7) (s-2) and Erin Carroll
2b – Jen Stein HR – Nicole Yost (4), Sarah Cullen (3) RBI – Yost, Carroll, Cullen
IUP (14-10, 1-3 PSAC Central): Jenny Shaffer (L, 4-5), Holloway (4) and Goettman
2b – Michelle Bivona, Goettman RBI – Ferguson, Bivona