RELEASE DATE: 3/28/09
FOR IMMEDIATE RELEASE: Mounties sweep Gannon in two extra innings games – Melissa Baer wins both games – Ashley Gaisser singles in winning run in opener – Katie McConville drives in game-winner in nightcap
Game One Boxscore
Game Two Boxscore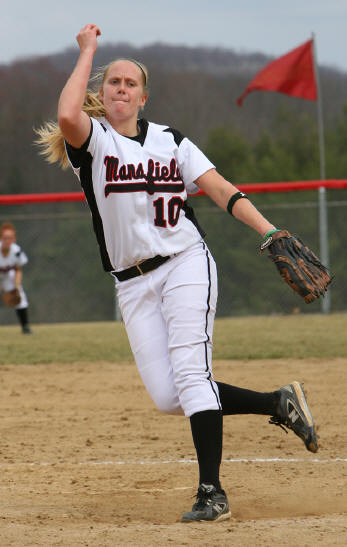 MANSFIELD – Softball does get much more exciting than this.
Mansfield got walk-off singles from Ashley Gaisser and Katie McConville to sweep Gannon Saturday afternoon.
Melissa Baer picked up a win in the opener in relief and went all 11 innings in the nightcap to lead Mansfield to a 4-3, 1-0 sweep in a pair of extra-innings PSAC interdivisional softball games Saturday afternoon at Helen Lutes Field.
Baer pitched 12 overall innings on the day coming in relief of Kami Bishop in the eighth inning of the opener retiring three of the four batters she faced.
Mansfield scored the winning run in the bottom of the eighth when with two on and one out, Gaisser drilled a walk-off RBI single up the middle. Gaisser was the offensive star of the game driving in four of Mansfield's runs on two hits. Bishop went seven solid innings, giving up just four hits and striking out four before being relieved by Baer.
In the nightcap, Baer and Gannon's Kelsey Brickman were locked in a scoreless pitching duel until the game went into the tiebreaker rule in the 10th inning.
In the 11th inning, Mansfield loaded the bases with no outs and Katie McConville lined a shot over the head of the drawn in outfield to score the winning run.
The game was full on intrigue with Mansfield stranding 13 runners and Gannon nine in the game.
Baer scattered five hits over 11 innings striking out six and walking two. McConville had two of the Mountaineers six hits.
Mansfield extended its winning streak to four games and improved to 10-10 overall. The Mountaineers travel to IUP Tuesday.
GAME ONE
Gannon 000 300 00 3-5-2
Mansfield 000 003 01 4-8-2
Gannon (13-9): Lauren Soldner (L, 6-5) and Kara Hensley
2b – Hannah Koenig, Chastity Guerrero
RBI – Kadie Ondrus 2
Mansfield (9-10): Kami Bishop, Melissa Baer (8) (W, 3-4) and Erin Carroll
RBI – Ashley Gaisser 4
GAME TWO
Gannon 000 000 000 00 0-5-3
Mansfield 000 000 000 01 1-6-2
Gannon (13-10): Kelsey Brickman (L, 3-3) and Holli Michaels

Mansfield (10-10): Melissa Baer (W, 4-4) and Jen Stein
RBI – Katie McConville