RELEASE DATE: 3/07/09
FOR IMMEDIATE RELEASE: Mansfield softball drops three-games in final day of Southern swing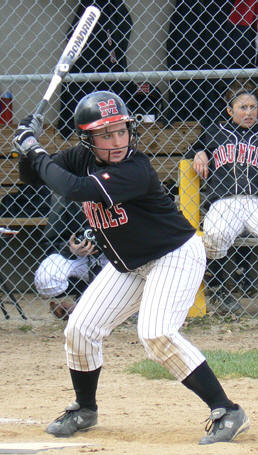 Florence, SC – The Mansfield University softball team played a rare triple-header at the Patriot Invitational at Francis Marion University Saturday losing 6-2 to St. Andrews, 5-3 to UNC-Pembroke and 7-0 to Slippery Rock.
Mansfield ends its Southern trip with a 4-5 overall record.
In the first game of the day St. Andrews scored four runs in the bottom of the fifth to break up a 1-1 tie. Freshman Kami Bishop started and took the loss striking out five in five innings.
Sarah Cullen hit her first home run of the season in the top of the seven and drove in Mansfield's other run on an RBI single in the second. She went 2-3 with a home run and two RBI' in the game.
In game two UNC-Pembroke all five of its runs in the first three innings with Mansfield closing the gap to 5-3 after scoring twice in the fourth and adding another run in the fifth.
Janelle Antes and Erin Carroll each went 2-4 at the plate with Ashley Gaisser doubling in a run.
In the final game of the day Mansfield managed just three hits in a 7-0 loss to Slippery Rock. Kami Bishop started and took the loss. She was relieved by Gabby Carrullo and Jamie Castellano.
Mansfield hits the road again next weekend traveling to the WVWC Tournament.
Game One
Mansfield 010 000 1 2-5-3
St. Andrews 001 041 x 6-11-0
Mansfield (4-3): Kami Bishop (L,3-2), Gabby Carrullo (6) and Erin Carroll
HR – Sarah Cullen (1) RBI – Cullen 2
St. Andrews (7-11): Ashley Disque (W) and Megan Riggs
2b – Morgan Farroll, Sarah Applegarth, Danyell Marquez
RBI – Marquez 2, Applegarth, Disque, Brianna Shurtleff
Game Two
Mansfield 000 210 0 3-7-1
UNC-Pembroke 212 000 x 5-7-2

Mansfield (4-4): Melissa Baer (L, 1-2) and Jen Stein, Nicole Yost (5)
2b – Ashley Gaisser RBI – Megan Trutt, Eaisser, Jennifer Swarr
UNC-Pembroke: (12-13): Brittany Marsh (W), Caroline Newman (6) (S) and Randi Pruitt
RBI – Pruitt, Morgan Patrick, Paige Faircloth, Lynn Grantham, Carissa Dancer
Game Three
Slippery Rock 122 002 0 7-9-0
Mansfield 000 000 0 0-3-0
Slippery Rock (5-4): Shauna Walker (W) and Jess Kortz
2b – Jordan Zeunges, Kortz HR: Kortz, Kristen Brant
RBI – Kortz 3, Brant 2, Lauren Saulter
Mansfield: Kami Bishop (L, 3-3), Gabby Carrullo, Jamie Castellano

<![if !supportLineBreakNewLine]>
<![endif]>