RELEASE DATE: 3/21/09
FOR IMMEDIATE RELEASE: Mounties finish 2-3 at WVWC Tournament with win over Salem International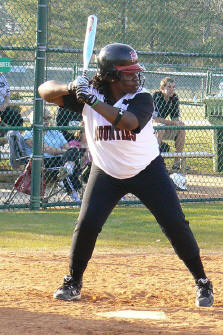 SALEM, VA – The Mansfield University softball team struggled in its first two games of the second day of the WVWC Tournament but came back to beat Salem International 10-2 in the third game of the day.
The Mountaineers got all the runs they would need in the bottom the first on a two run double by Jen Stein. Katie McConville also doubled later in the inning driving in the game's third run.
Mansfield added four more runs in the fourth highlighted by a two-run single by Megan Trutt.
Stein went 3-4 with a double and two RBI's to pace Mansfield's 10-hit attack.
Freshman Kami Bishop picked up her fifth win in nine decision this season striking out five in five innings. Melissa Baer closed out the sixth inning by striking out two of three batters.
Mansfield is now 6-8 on the season and will open the PSAC Central season when they host nationally-ranked Lock Haven on Tuesday at Helen Lutes Field.
GAME ONE
Charleston 050 004 9-9-0
Mansfield 000 000 0-3-2

Charleston (4-10): Stefanie Rossman (W) and Mandy Faunda
2b – Ally Lowdermilk, Logan Tretick RBI – Megan Ferreira 2, Rachel Holstein 2, Tretick 2, Jana Salisburg
Mansfield (5-7): Kami Bishop (L, 4-4), Melissa Baer (5) and Erin Carroll
2b – Megan Trutt
GAME TWO
West Virginia Wesleyan 460 01 11-10-0
Mansfield 000 00 0-2-2
WVW (12-8): Patricia Moreno (W, 7-4), Kailey Kubesch (5) and Stephanie St. Peter
2b – Trisha Thurston, Carly McCullough, Katie Speaks
RBI – Speaks2, Stephanie Wheeler 2, Emily Nieman, Carly McCullough, St. Peter
Mansfield (5-8): Jamie Castellano (L, 0-1), Gabby Carrullo (3), Melissa Baer (3) and Jen Stein
GAME THREE
Salem International 000 020 2-6-3
Mansfield 300 403 10-10-0
Salem Internatinal (1-28): Smith (L) and Potts
2b – Lease, Nutter RBI – Lease, Smith
Mansfield (6-8): Kami Bishop (W, 5-4), Melissa Baer (6) and Erin Carroll
2b – Jen Stein, Katie McConville RBI – Megan Trutt, Stein, Aundraa Polk, mcConville