RELEASE DATE: 4/14/09
FOR IMMEDIATE RELEASE: Mounties use long ball to sweep Clarion in softball – Aundraa Polk hits grand slam in nightcap
Game One Boxscore
Game Two Boxscore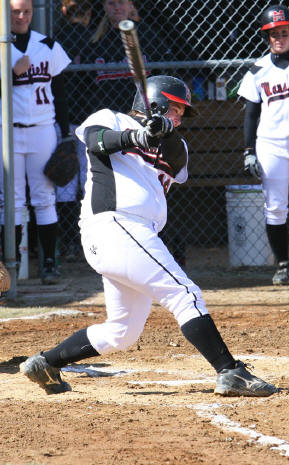 MANSFIELD – Jen Stein (Williamsport/Williamsport) and Ashley Gaisser (Brockport,NY/Brockport) each hit home runs in the opener and freshman Aundraa Polk (Harrisburg/Science Tech) belted a grand slam in the nightcap to lead Mansfield to a 8-2, 10-0 sweep over Clarion in a PSAC Central doubleheader at Helen Lutes Field Tuesday afternoon.
In the opener, Mansfield scored three runs in the bottom of the first on a three-run double by Gaisser. Clarion closed the gap to 3-2 two runs in the third on a two-run double by Carlie Cook.
Mansfield put the game out of reach with five runs in the fifth inning on a three-run home run by Stein and two-run home run from Gaisser. Melissa Baer (Williamsport/Williamsport) went the distance to earn her fifth win of the season scattering seven hits and striking out six while walking none.
In the nightcap, freshman Kami Bishop (Port Royal/Juniata) held Clarion to just three hits and struck out three to improve to 8-9 on the season. Mansfield scored three runs in each the second and third innings before Polk blasted her first collegiate home run over the centerfield fence with the bases fourth.
Stein went 3-3 with a double and RBI while freshmen Jordan Rishel (Muncy/Muncy) and Erin Carroll (Matawan,N/Mater Dei) each drove in two runs.
Mansfield has now hit 22 home runs in 30 games this season compared to 14 home runs during all of 2008.
The Mountaineers will close out the regular season when they host IUP this Friday afternoon at Helen Lutes Field.
GAME ONE
Clarion 002 000 0 2-7-1
Mansfield 300 050 x 8-6-1
Clarion (5-26, 0-11 PSAC Central): Danielle Cecire (L, 0-11), Lindsay Vevers (5) and Marissa Myers
2b – Rebecca Lynch, Carlie Cook RBI – Cook 2
Mansfield (12-17, 4-9 PSAC Central): Melissa Baer (W, 5-7) and Jen Stein
2b – Ashley Gaisser HR – Gaisser (1), Jen Stein (3)
RBI – Gaisser 5, Stein 3
GAME TWO
Clarion 000 00 0-3-0
Mansfield 033 4x 10-10-0
Clarion (5-27, 0-12 PSAC Central): Caitlin Lamison (L, 4-10), Lindsay Vevers (4) and Marissa Myers
<![if !supportLineBreakNewLine]>
<![endif]>
Mansfield (13-17, 5-9 PSAC Central): Kami Bishop (W, 8-9) and Jen Stein
2b – Stein, Gaisser, Katie McConville HR – Aundraa Polk (1)
RBI – Polk 4, Jordan Rishel 2, Erin Carroll 2, Stein, Gaisser