RELEASE DATE: 4/8/09
FOR IMMEDIATE RELEASE: Softball drops doubleheader at #19 Bloomsburg
Game One Boxscore
Game Two Boxscore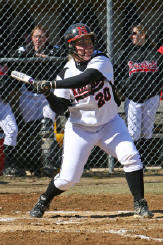 BLOOMSBURG – Kami Bishop allowed no earned runs in going the distance in the opener and Nicole Yost hit her fifth home run of the season in the nightcap but it wouldn't be enough as Mansfield dropped a 4-0, 6-2 doubleheader in a PSAC Central doubleheader at #19 ranked Bloomsburg Wednesday afternoon.
Bishop scattered eight hits, none of them for extra bases, and struck out three in the opener but was outmatched by Bloomsburg's Tara Reed who gave up four hits while striking out 10.
Bloomsburg scored all four of its run in the bottom of the sixth to break up a 0-0 tie. Bishop retired the first two batters before a pair of Mountaineer errors led to all Bloomsburg's runs.
Janelle Antes had two for Mansfield.
In the nightcap, Bloomsburg scored twice in the first inning of starter Melissa Baer but Mansfield got an unearned run in the second and Yost solo homer in the third tied the score at 2-2.
Bloomsburg (22-4, 7-1 PSAC Central) rallied with three runs in the fifth and another run in the sixth to win the game.
Baer went the distance for Mansfield allowing 10 hits with only three of the six runs earned. She struck out four and walked one. Yost, who's five home runs are the most in a season since Sytiva Seitz hit seven in 2005, was 2-3 and was freshman Erin Carroll.
Mansfield, 11-13, 3-5 PSAC Central) travels to #5 ranked Lock Haven in a game that was moved up from Friday.
GAME ONE
Mansfield 000 000 0 0-4-2
Bloomsburg 000 004 x 4-8-0
Mansfield (11-12, 3-4 PSAC Central): Kami Bishop (L, 7-6) and Erin Carroll
Bloomsburg (21-4, 6-1 PSAC Central): Tara Reed (W, 9-3) and Lacey Mauro
RBI – Reed, Lori Neyhard, Shen DeBaro
GAME TWO
Mansfield 011 000 0 2-6-1
Bloomsburg 200 031 x 6-10-1
Mansfield (11-13, 3-5 PSAC Central): Melissa Baer (L, 4-6) and Jen Stein
HR – Nicole Yost (5) RBI – Yost
Bloomsburg (22-4, 7-1 PSAC Central): Shavaun Fisher, Amanda Whitford (4) (W, 3-0) and Mauro
2b – Tara Reed, Nikki Shiko RBI – Shiko 2, Reed, Mauro, Jenna Hampton