RELEASE DATE: 3/27/09
FOR IMMEDIATE RELEASE: Nicole Yost hits winning run in the top of the fifth inning to complete the sweep of Clarion University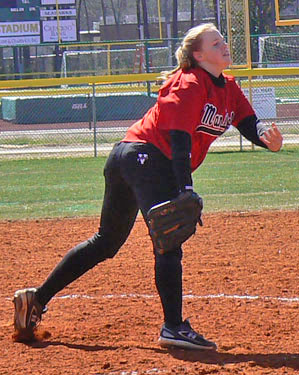 CLARION – Nicole Yost hit a single into left field to drive Gab Carrullo home in the top of the fifth inning to give Mansfield a 8-7 win in the second game against Clarion University at Clarion Friday afternoon.
Mansfield opened the second game when Janelle Antes scored off of an RBI single to left field from Yost. Erin Carroll hit a single past Lauren Martino at shortstop to score Megan Trutt. Ashley Gaisser hit a double to right field to score Carroll and Katie McConville. Gaisser finished the first inning off with an RBI single to right field from Sarah Cullen.
Clarion responded by scoring seven runs of their own.
Clarion scored runs in the first with a Carlie Cook double and a Nicole Lollo double. Then they took the lead in the bottom of the third with runs from Cook's double, Marissa Myers' single scoring two and a single from Suzie DeNillo.
Melissa Baer recorded the win as she completed all seven innings allowing seven hits, seven walks and five strike outs.
Game one of the day was not as close as the nightcap proved to be.
Kami Bishop pitched five innings and recorded the win giving up nine hits, one walk and one strike out as Baer relieved her in the sixth inning.
Mansfield did not see the scoreboard until the third inning when they were already down 2-0 when Antes scored off an error by Katie Baun. Clarion answered with three more runs of their own to bring the score up to 5-1.
It was not until the sixth inning when Mansfield would take the lead and hold onto it to win 10-6. The six runs were scored by Antes' single, Trutt on a fielder's choice, Yost walked, Jen Stein hit an RBI SAC fly, Carroll doubled and Gaisser reached on an error by Corinna Sternthal at second base.
Mansfield will host Gannon University this Saturday at 1 p.m. and then travel to Indiana University of Pennsylvania on Tuesday March 31 at 2:30 p.m.
GAME ONE
Mansfield 001 126 0 10-11-0
West Chester 203 010 0 6-10-3
Mansfield (7-10, 1-2 PSAC East): Kami Bishop (W, 6-5), Melissa Baer (6) and Erin Carroll

2b – Janelle Antes, Erin Carroll(3), Sarah Cullen RBI – Antes, Megan Trutt, Nicole Yost, Jen Stein, Carroll(3), Cullen
Clarion (2-13, 0-3): Caitlin Lamison (L), Lindsay Vevers (6) and Marissa Myers
2b – Rebecca Lynch, Nicole Lollo, Carlie Cook HR – Cook RBI – Lollo, Cook(4), Marissa Myers
GAME TWO
Mansfield 500 030 0 8-13-1
Clarion University 204 100 0 7-7-4
Mansfield (8-10, 2-2 PSAC East): Melissa Baer (W, 2-4) and Jen Stein
2b – Janelle Antes, Ashley Gaisser RBI – Antes, Megan Trutt, Nicole Yost(2), Erin Carroll, Gaisser(2), Sarah Cullen
Clarion (2-14, 0-4): Danielle Cecire (L) and Marissa Myers
2b – Lauren Martino, Nicole Lollo, Carlie Cook RBI – Lollo, Cook(2), Marissa Myers(2), Suzie DeNillo